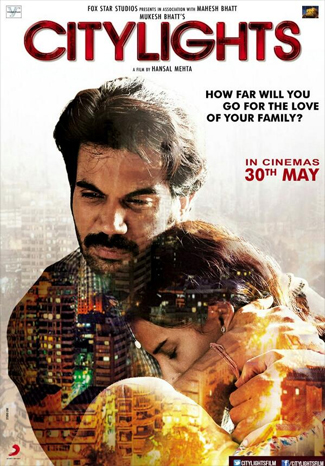 Citylights is an upcoming drama starring National Award winning actor Rajkummar Rao and Patraleka in the leading roles. The film has been directed by Hansal Mehta, famed for directing the critically acclaimed Shahid (2013), which also starred Rajkummar Rao.
Citylights is based on a farmer who migrates with his wife and child to Mumbai in search for a better life. The music to the film has been composed by Jeet Gannguli, who is known for composing a number of songs for the megahit Aashiqui 2 (2013). Is the soundtrack to Citylights worth your time? Read on to see what we thought of it.
First up we have Muskurane, sung by the impeccable Arijit Singh. I consider this one to be one of the top highlights in the album and it has been beautifully sung by Arijit. He really manages to get the notes right and hence, compliments very well with the mellow composition. In addition, I think the use of the piano has been nicely executed in this particular song, not to mention the great poignant lyrics which have been well written. There is also an Unplugged Version performed by Mohammed Irfan. I found this one to be a little too bland for my liking, though it may have been composed for use in particular scenes in the film. Hence, go for the original version by Arijit which will have a bigger effect on you.
Following this we have Soney Do by Arijit Singh. I had a mixed reaction to this one and I think it could have been a lot better. Having said this, it is not a total failure and there are some nice sounds that you may wish to check out. Yet for me, this was really a one-time listen and I don't think I would listen to it again.
Next we have Ek Charraiya, sung by Arijit Singh. I found this song to have been nicely performed by Arijit and he manages to offer us something different which his hard-core fans may wish to check out. The composition is soft in tune and it includes liberal use of instruments such as the guitar and the violin. There is also a second version of this song performed by Jeet Gannguli, which is also worth having a look at. I think this is another key track in the album which is worth your time so do give it a listen.
Darbadar is next and has been performed by the wonderful Neeti Mohan. Though the vocals by Neeti have been well delivered, I found the composition to be dull and lacking in musical flavour. Sadly this one just did not have the right ingredients needed for a great track!
Lastly there is the title track Citylights by Usha Uthup and Ustad Rashid Khan. The song starts off nicely but then as it builds up; it just falls flat completely. The vocals are decent and the composition has some modest qualities to it (though by no means great). Unfortunately, this is another low point of the album which makes you just want to press the skip button.
Sadly, the soundtrack to Citylights was not as interesting as I thought it would be. With the exception of the 'Muskurane' and 'Ek Charraiya,' the rest of the songs are mind-numbingand deprived from the great sounds which many would have expected from Jeet Gannguli.
Having said this, I think the film will have a greater impact when it releases on 30 May. With a talented actor like Rajkummar Rao headlining this film, what reason is there to not go out and watch it!