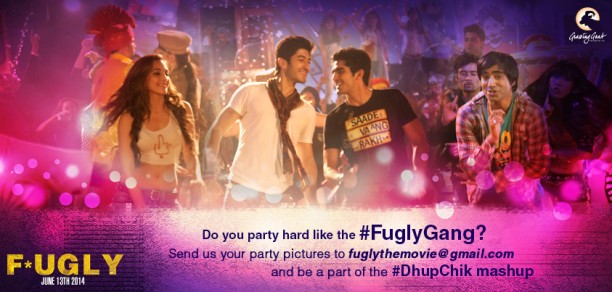 The creative team of Fugly has come up with a contest for fans as they eagerly await the release of the movie. A video contest titled #DhupChikMashUp has been started across all the official social platforms inviting the audience to share their party pictures. The winning pictures will consequently be featured in the Dhup Chik Mashup Video.
The contest requests entries from people who love to party like the #Fugly Gang. Entries can be sent at: fulgythemovie@gmail.com. The party anthem 'Dhup Chik' has become a sensation among the audience and people are grooving to its foot tapping beats. It has gripped the nation with its fast paced music and unique composition. The Fugly team wants to share the success of its song with the fans by giving them a chance to a part of the Dhup Chik Mashup Video. Come show the party animal in you!
Fugly stars Mohit Marwah, Kiara Advani, Vijender Singh, Arfi Lamba and Jimmy Sheirgill. Directed by Kabir Sadanand and produced by Grazing Goat Pictures, the movie is slated for release on 13th June, 2014.