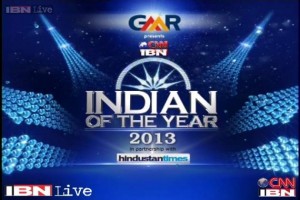 The 8th edition of the "CBN-IBN Indian of the year" award ceremony took place on the 20th of December, 2013. Recognised and celebrated through the prestigious award are the contributions of those Indians during the calendar year that have "strengthened the foundation of our society and has helped build Brand India in the process." (indianoftheyear.com)
We highlight the inspirational winners who have made the world proud through their perseverance and courage (the following are with reference to ibnlive.in.com):
The "Special Achievement of the Year" award was presented to Bollywood star Deepika Padukone and was facilitated by father Prakash Padukone. The award was stated as for "4 consecutive hits" that have "earned over 400 crores for the Hindi film industry". The star shared a few words on her gratitude to her parents and encouraged all parents to allow their children to "live their dream", "I think this is really for my parents who allowed me to live my dream. And with this award, I think I would like to tell all the parents out there, to allow your children to live their dream…"
Achieving the biggest award, the winner of the "CNN-IBN Indian of the Year 2013" was the "Stop Acid Attack campaign", led by acid attack survivor Laxmi. The award was stated as: "For having the courage to fight back and end the cult of silence".
Receiving the award, Laxmi expressed pride and the determination to reach the ultimate goal: "Thank you so much CNN… We are all feeling so much pride today…The fight is not yet over. We will continue to fight until that day, when acid is stopped completely."
The "Politician of the year Award" was presented to Arvind Kejriwal who launched the "Aam Aadmi Party" in 2012. AAP's achievements were described through the award: "AAP formed last year made a stunning debut to win 28 of 70 seats in Delhi".
"Entertainer of the year" was presented to Kapil Sharma, the hilarious stand-up comedian and actor. Sharma was celebrated through the award as an individual who: "Redefined stand-up comedy with his new television show."
The "Sports Person of the Year" was awarded to P V Sindhu and stated as "the first woman to win a singles medal at the World Badminton Champion".
"Business Person of the year" was awarded to Rajiv Bajaj, the personality who "has turned Bajaj Auto into one of the world's most profitable auto companies".
"Public Service Award" was presented to Lily Thomas and the "Association for Democratic Reforms" (ADR). "Lily Thomas filed a petition against provision that protected convicted law makers".
Special Award:
ITBP and NDRF teams who "rescued over 30,000 people from flood devastated Uttarakhand.
Ramakant Achrekar, for mentoring Cricketing legend Sachin Tendulkar.
A posthumous award was honoured upon the Late J.S. Verma who "chaired a panel that recommended stricter penalties for crimes against women".
BollySpice wish them many congratulations and best wishes for the future!