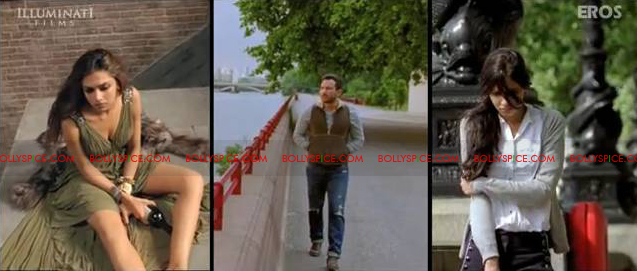 Cocktail's album has received superb audience reactions and with that we have seen four Pakistani talented singers making their debut in Bollywood soundtrack.
Cocktail is all set to releases yet another music video which will definitely have audiences craving for more. The latest music video 'Jugni', is a flipside of all the peppy and happening videos released so far.
Arif Lohar and Harshdeep Kaur have lended their voices for Jugni. The song is a traditional Punjabi track with western music. A perfect blend of music, lyrics and vocals has led to the creation of this soulful song. The song was originally designed by Rohail Hyatt and Arif Lohar for Coke Studio and is now an ideal adaptation to the movie.
The video shows all the three stars Saif Ali Khan, Deepika Padukone and Diana Penty taking probably the most confusing decisions. It portrays the turmoil one goes through when one is faced with two choices. It is the perfect song that defines the tagline of the movie 'Some Friendships are too good to share'.
'Jugni' is a song about choices, every single day we go through several situations where making choices and taking the right decisions is very difficult. The song is hand crafted for situations we witness at times, when love really gets complicated.
The producers of this Saif-Deepika starrer had planned a huge unplugged music event to celebrate the soundtrack of this highly anticipated film. The evening where we would get to see 'jugal bandi'(battle of the bands) of Indian and Pakistani musicians. The debutante Pakistani singers are no far behind when it comes to flaunting their talent.
The event would have certainly gathered a huge crowd as it was being organized in a well know amphitheatre in Bandra. However things didn't go as planned. Unfortunately, Pakistani singers couldn't get visas to come to India because of which the music launch idea had to be scrapped.
We have heard that now the producers are planning to hold this event in London where currently both Indian and Pakistani singers can celebrate with ease. Keeping in mind the excitement and thrill, they will make sure it will be a worthwhile event.
Cocktail starring Deepika Padukone, Saif Ali Khan Diana Penty, Dimple Kapadia, Boman Irani and Randeep Hooda will release in the UK on 13th July 2012.