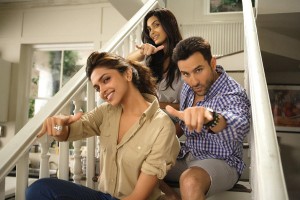 Eros International Media Ltd (Eros International), a leading global company in the Indian film entertainment industry has announced a gross opening weekend box office gross of Rs. 65 crore  worldwide for its latest release Cocktail. The film has grossed over Rs. 50 crore in India (net collection: Rs. 35 crore) and Rs. 15 crore overseas.
Produced by Eros International and Illuminati Films, directed by Homi Adajania and starring Saif Ali Khan, Deepika Padukone and debutante Diana Penty, Eros released Cocktail worldwide on 13th July 2012.
Commenting on the film's performance, Nandu Ahuja, Senior VP – Distribution – India, Eros International Media Ltd, "Cocktail is a young urban film and has taken the metros and multiplexes by storm. This heady Cocktail complemented by its chartbusting music has scored very well with the plexes. We are anticipating the youth to drive the momentum through the week and maintain the good numbers. After the success of Love Aaj Kal, yet another hit from Saif Ali and Dinesh Vijan in combination with Eros makes us really proud of this alliance."
Pranab Kapadia, President – Marketing & Distribution, Eros International plc added, "Grossing Rs 15 crore in 3 days, Cocktail is rated No 5 on the UK Box Office charts and No 9 in Australia and has struck just the right chord with international audiences. The music of the film is already a rage amongst the youth and offers the film the opportunity to run through for a longer period through Ramadan. Other territories like UAE, Pakistan, Fiji, New Zealand and Singapore are also performing just as well".
With Cocktail, Saif has proved once again he is most appreciated in this genre and continues to be a multiplex favourite.
Producer Dinesh Vijan said, "Cocktail has managed to get straight to the youth. Once the songs and promos released online and went viral, I knew that soon it wouldn't be our film anymore and would belong to them. Our exclusive online strategy was a calculated risk that has paid off. The internet is democratic, uncensored and brutally honest medium and all our online viewers gave Cocktail a life of its own and are responsible for its massive opening, I am very grateful for this".
Director Homi Adajania added, "I feel what has clicked for Cocktail is that this film belongs to everyone who has ever experienced love and friendship. It's hip, contemporary and very identifiable. If you have had these experiences, go watch it, if you haven't, then go fall in love instead!"
Cocktail is a contemporary story about a hilarious and dramatic summer in the lives of three strangers in London who inadvertently become best friends and start living together. Everything seems to be perfect until love comes to town! Set against the vibrant and luscious backdrop of London this is a comical, new-age and warm celebration of relationships exploring various choices that life may offer and the extraordinary choices that ordinary people make.