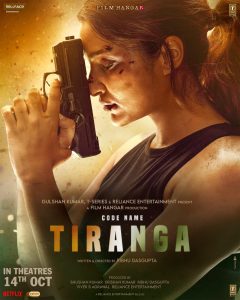 Code Name: Tiranga
Written & Directed by Ribhu Dasgupta
It is easy to be dismissive of a film that doesn't break new ground or doesn't pretend to. A straightforward sharply-written film about a terrorist extraction gone wrong, Code Name: Tiranga packs in quite a punch in the action sequences.
Shot in the rugged locations of Turkey, this is a slow-burn thriller. Writer-director Ribhu Dasgupta has an interesting track record. He started his directorial career with the intriguing Naseeruddin Shah vehicle Michael and went on to do the riveting series Yudh with Amitabh Bachchan.
Code Name: Tiranga misses out on the strong performances of his earlier films. The actors are authentic, many of them local Turkish, others veterans of Hindi cinema like Rajit Kapur and Shishir Mishra, but never rising above the script at any point.
The real hero in this film is the cinematography by Tribhuvan Babu Sadineni, which frames the action sequences in hues of heightened heroism without self-congratulations.
Dasgupta's screenplay is constantly a step ahead of the audiences' expectations. Portraying a very complicated issue with no moral demarcations.
Parineeti Chopra falls short of expectations, as she had done earlier in Dasgupta's The Girl On The Train. Nonetheless it is a brave performance that requires her to wear dangerous disguises in a film that breaks the rules even while reiterating the rules of cinema about terrorism.
The love story that lies at the core of the turbulent plot could have been done with a bit more fleshing out.
Harrdy Sandhu's Hindi debut is a bit of a cold smoulder. Not lacking in intensity, he loses out in motivation and common sense. It is hard to imagine that any man would marry a foreigner without doing a thorough identity check on her.
The glitches and improbabilities however, do not undermine the film's overall RAW appeal. I suppose this is the one anti-terrorism story that Ribhu Dasgupta wanted to get out of his system. I want to see what he directs next.