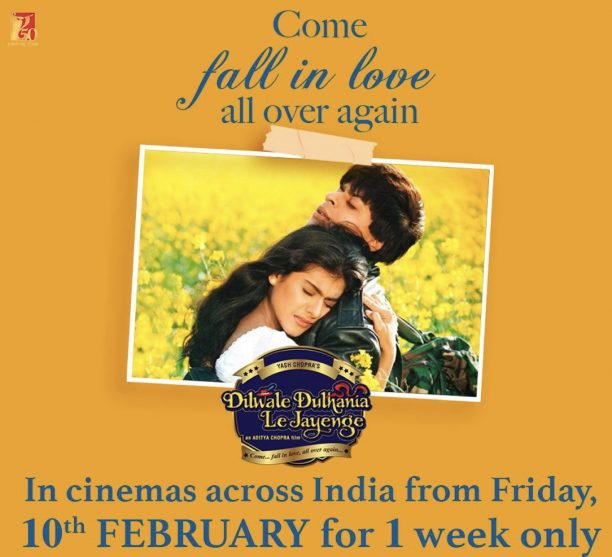 The Aditya Chopra directed iconic romance Dilwale Dulhania Le Jayenge (DDLJ) is one of the most loved films by da a all over the world. DDLJ, is the longest running movie in the history of Indian cinema. DDLJ is one of the biggest romance films from the Indian film industry and it catapulted Shah Rukh Khan and Kajol to become superstars.
In some exciting news, we can now reveal that DDLJ is coming back to the big screen. Yes, get ready to fall in love all over again with Raj and Simran because this year, especially for Valentine's Day, DDLJ will see a wider release across India.
Rohan Malhotra, Vice President, Distribution, YRF, says, "Dilwale Dulhania Le Jayenge (DDLJ), the longest-running film in the history of cinema, has become synonymous with romance for India and Indians for generations since its historic release. We are constantly requested by the audience and fans, throughout the year, for a wider showcasing of the film so that they can, again and again, watch this milestone-setting film with their friends and family in theatres! This year, on the occasion of Valentine's Day, we are making their wish come true. DDLJ will be screened across India, starting Feb 10, for a period of one week only!"
DDLJ will be released in 37 cities across India, including Mumbai, Pune, Ahmedabad, Surat, Vadodara, Gurgaon, Faridabad, Lucknow, Noida, Dehradun, Delhi, Chandigarh, Kolkata, Guwahati, Bengaluru, Hyderabad, Indore, Chennai, Vellore, Trivandrum.
Interestingly for audiences, they can get a taste of Shah Rukh Khan as Raj in DDLJ and as Pathaan in theatres over this Valentine's Day period. Pathaan is currently wreaking havoc at the box office as it has become the all-time highest grossing Hindi film ever worldwide!
Rohan says, "YRF & SRK are not only synonymous with delivering Indian cinema's biggest blockbusters but also for collaborating on films which have redefined the Indian film industry and have had a lasting cultural impact"
He adds, "It is an amazing coincidence that DDLJ, an all-time blockbuster, was released by YRF during its 25th year celebrations & this year, history has repeated itself with Pathaan as it has become the highest grossing Hindi film worldwide (original format) during YRF's 50 year celebrations!"
He further adds, "We are thrilled to give the audience an opportunity to watch DDLJ and Pathaan, which are going to run simultaneously on the big screen, during this period. YRF has been fortunate to become home to India's biggest cinematic IP's including DDLJ and Pathaan from YRF's Spy Universe and we hope both these films make up for an amazing viewing experience for people during the Valentine's week."
Sounds like a perfect Valentine's date to us!