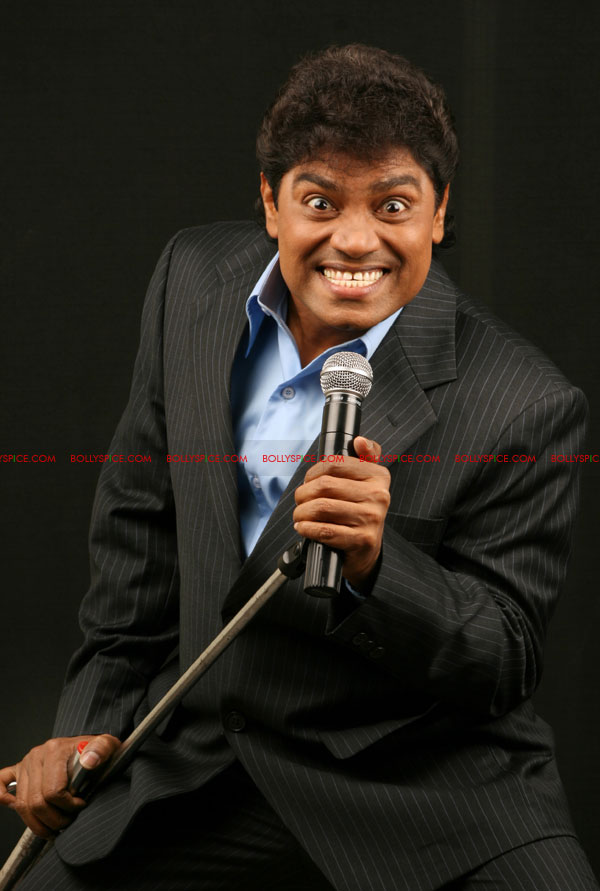 All set to face a Live Audience performing in three major cities across the UK. Jays Entertainment proudly presents International renowned Award Winner Actor & Comedian Johny Lever in a must see stand up comedy.
Johny returns to the UK for the first time in seven years first stop St Georges Concert Hall, Bradford on 2nd May 2012 followed by Watford Colosseum on 5th May 2012 and then heads to The De Monfort hall in Leicester on 6/7th May 2012.
The First segment of the UK Tour allows the 'Bollywood King of Comedy' to interact live in front of his fans, due to his popular demand that has granted him to perform a staggering result in front of a full house leaving his fans literally holding their tummy in laughter. The man has his own unique persona which reflects his talent to tickle bones!
Johny began his career back in 1984 he spent his early age in Yakutpura an old city of Hyderabad (India) from where he learnt the unique style of comedy/ acting. He developed a passion for mimicry and stand-up comedy, inspired by watching comedians like the unforgettable Mr Johnny Walker, the remarkable Kishore Kumar and the legendary Mehmood saab in films and through mimicry artists like, Dinesh Hingoo and Nerella Venumadhav on stage, it was from here he decided to become a Mimicry Artist.
His success and talent grew gradually Johny was then offered films instantly. Starring in more than 400 Bollywood movies with let's say, every star under the horizon ever since! His fans took to him instantly on screen which led him to achieve success upon success winning 13 Filmfare Awards nominated in The Best Comedian Category bringing it home twice. He is considered an influential Indian comedian who has been cited as inspiration by many other comics in the industry today.
Johny lever's ability to capture his viewers and attract his fans by his articulate wit is one of the main reasons he is loved, very well known and appreciated all over the world. His great sense of humour in keeping his fans entertained whether that's in movies or whilst performing live stand ups; identifies Johny lever as the 'King of comedy' today a name which stands out by far.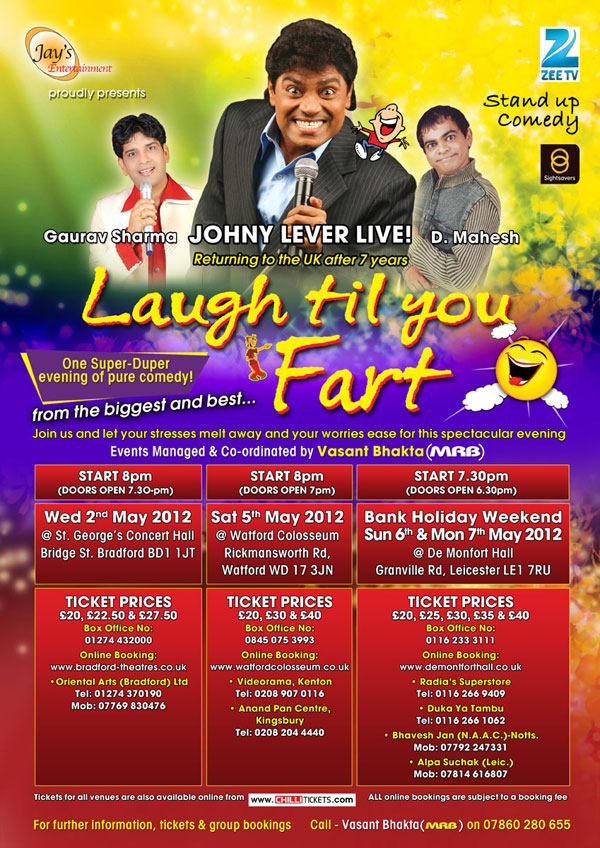 Johny's hard work and determination pays off every time he utters a word. His mesmerising performances and heart touching philosophy has always left his audience in a trance. His acumen has always excelled awarding him today's numero uno hot spot.
Don't miss the fantastic opportunity to catch the 'Bollywood's King of Comedy' take to stage, performing in front of a Live audience accompanied by Gaurav Sharma & D Mahesh This show has been brought to you by Jays Entertainment, it is a must see experience for you and your family.
Tickets are on sale Today
Buy tickets from www.chillitickets.com or Nominated Box offices for your preferred venue
UK Tour Dates
Wednesday 2nd May 2012 at St George's Concert Hall Bradford,
Saturday 5th May 2012 at Watford Colosseum Watford,
Bank Holiday Weekend
Sunday 6th & Monday 7th May 2012 at De Montfort Hall Leicester,
For more information on tickets & group bookings call Vasant Bhakta on: 07860280655