Reliance Home Video and Games released the high-octane, action-packed thriller 'Commando – A One Man Army' on home video recently at Landmark, Infinity Mall, in the presence of the film's cast and director, along with Sanjeev Lamba from Reliance Entertainment.
Presented by Reliance Entertainment in association with Sunshine Pictures Pvt Ltd, the film produced by Vipul Amrutlal Shah & Reliance Entertainment and directed by Dilip Ghosh stars Vidyut Jammwal & Pooja Lamba commented that Commando was still attracting a lot of attention on the international circuit, and was being viewed as one of the first genuine Indian action films. Talking about the film's unique promotion, Lamba added, "There are about 150 to 200 films releasing every year and only 52 Fridays to release them, giving an average of about four films a week. So one has to do something unique to attract eyeballs. Commando's unique strategy also involving live actions stage performances by the lead actor Vidyut Jamwal worked for the film. Pooja did a great job as did Jaideep Ahlawat."
Pooja confessed that she had been very nervous during the making of the film. "I will not lie. I was nervous from the first day to the last while shooting for the film," she said, adding, "But the way the audience has accepted me is simply heartwarming. I would like to thank the audience for the great Vidyut thanked Vipul Shah and Sanjeev Lamba for believing in the project. "This is the first film to use Indian martial arts to such an extent. In fact, I am going to be performing live stage action at IFFA soon and am looking forward to it," revealed Vidyut.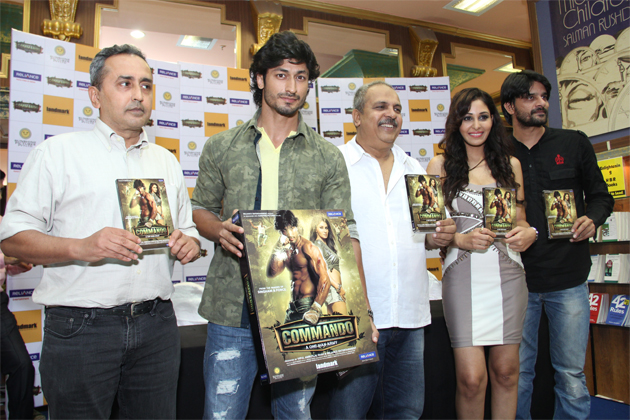 Upon release, 'Commando – A One Man Army', garnered positive reviews from critics.
• Taran Adarsh of Bollywood Hungama gave Commando 3.5 out of 5 stars and said "A high-voltage action fare that's racy, pulsating and packed with some adrenaline-pumping stunts".
• Meena Iyer of The Times of India rated it with 3.5 out of 5 star while remarking "For the first time in eons, the action scenes are totally convincing".
The film is a high-octane, action-packed thriller starring Vidyut Jammwal, who plays a special-ops secret agent for the Indian Armed Services. During one of the missions the commando's chopper is shot down & from here on the commando embarks on a survival mission battling physically challenging environments, gun totting enemies in foreign land & is en route to his base. The commando uses his intense training, well honed survival & combat skills against the enemy in the face of this extreme environment.
The movie is being made available on DVD & VCD to suit your home-viewing pleasure & will be made available pan India across all leading Home Entertainment chains and also on key online portals. DVD buyers get an additional exclusive one hour segment on the making of the movie. Add this action dhamaka to your collection today. Available on DVD (MRP: Rs.299), VCD (M.R.P: Rs 115)