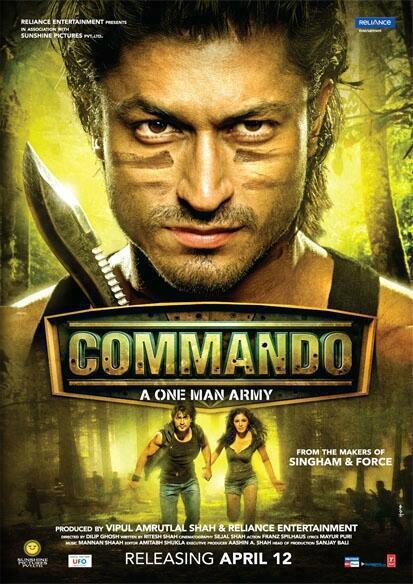 We've never seen anything like this before…Or have we???  Not since Sylvester Stallone, Jean-Claude Van Damme and,ahem , Akshay Kumar have we witnessed action of such riveting authenticity and intensity.
Without the risk of exaggeration we can 'safely' say Vidyut Jamwal takes the kind of risks in his action scenes that we haven't seen in any screen-hero from any part of the world.The choreographic precision with which  Jamwal flips, somersaults, and fells his adversaries is a sign of an exceptionally skilled  action-hero.
Te be sure, a star is born in Commando.We saw Jamwal completely upstage John Abraham in the hand-to-hand heart-in-mouth  fights of  Force. Now,Jamwal proves himself a maestro of unequalled sinewy skills,gliding rather than  fighting, pre-empting the adversary's moves almost like a chess game.
With tongue firmly in shriek mode Jamwal, in one of the early stunts scenes of the film rips open a poster of Force and attacks the baddies.The action never stops.And the song breaks specially an 'item song' in the second-half by Nathalia Kaur are unwelcome speedbreakers. We really don't want to see Jamwal romance the pretty Punjabi damsel in distress played by Pooja Chopra who seems a tad too well-groomed for the rigours of the jungle.
Not that we care. We just want to see Jamwal take on the bad guys, full-force. And boy, does Jamwal deliver!
Admaker-turned feature director Dilip Ghosh keeps the plot wisely simple ramrod-straight and to the point. Apart from those utterly annoying song breaks there are no digressions from the dynamics of  instant score-settling. It's a straight one-to-one fight-to-finish between the silently simmering Commando and a satanic goon from a small-town in Punjab with no eyeballs and apparently no  balls either,  who believes the power of the gun and the strength of Santa-Banta sms jokes  can be co-ordinated in one range of activity.
Jaideep Ahlawat (last seen giving a riveting performance in Kamal Haasan's Vishawaroop) gives to the goon's part a wacky spin. The man is half-devil half-imbecile. The goon makes Simrit an offer she can't resist. Either a suhaag-raat with him after the wedding, or a suhaag raat with him and all his battle-stained cronies right away?Hmmm?
Is it any wonder that the pretty spunky Punjabi lass makes a run for the jungles rather than accept the goon's marriage proposal.Predictably Simrit runs into the banished army-man, our Commando-hero who seems to have seen the collected Rambo series back-to-back at least 8-10 times. The first time Jamwal plays the saviour at a bus stand we know he means business.He is not just a one-man army,he is also the Indian army's favourite bete noire. Despite the heavy burden of playing protector to country and Leading Lady, Jamwal's fights manage to bring in a lot of warmth and some humour in their execution.
The narration is  an unabashed homage to Stallone's jungle-survival saga. And yet, thanks to Vidyut Jamwal's powerful screen presence the combat between the commando-hero and the goons never slackens in pace. The physical combats which are undoubtedly the crux of the theme propel the plot forward in leaps of inspired action.
Happily for Jamwal, his opponents are not shown to be ineffectual jokers. The back-and-forth of fists and rhetorics is uniformly engaging. Though we know exactly where the protagonist's one-man battle against his enemies is heading we  never lose interest in the plot.
The film is shot on some interesting locations. The backwaters of Punjab and the thick jungles  serve as just the right ambience for the rugged actioner.
Vidyut Jamwal takes care of the rest. His action definitely speaks louder than his words. Sejal Shah's cimematography and Ritesh Shah's dialogues constantly add to Jamwal's fist-power, imbuing his combat to the finish with some unexpected flourishes of serious socio-political comment towards the end when we are told we need to clean up our act if we want to protect the country from external threats.
It's a one-man-showoff all the way. Vidyut's co-star Pooja Chopra shows flashes of talent when she isn't busy brazenly aping Kareena Kapoor's voluble-Punjabi act from Jab We Met.
Not her fault. If the hero is a silent seething ball of implosive fire, and the heroine is a talkative Punjabi girl who runs away from home to escape an unwanted marriage , phir toh boss Jab We Met banta hai.
To its credit Commando creates a climate of clenched conflict for the hero to vent his voluminous talent as a martial artiste.
Indeed,  a star is born.
3.5 stars