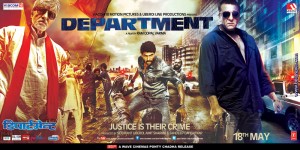 To celebrate the release of Ram Gopal Varma's latest blockbuster offering, Department, released by B4U Pictures and presented by Viacom 18 Motion Pictures, we have CD's of the pulsating soundtrack to give away to two lucky readers.
Ram Gopal Varma takes audiences on another rollercoaster ride to the dark side – this time into the guarded inner echelons of the police 'department', where the unnerving power struggles quickly separate the men from the boys. The film stars screen heavyweights, Amitabh Bachchan, Sanjay Dutt and Rana Daggubati.
Department's sinister aesthetic is heightened by the adrenaline-infused soundtrack, courtesy of composers Dharam Sandeep, Bappa Lahiri and Vikram Nagi. The musical score is punctuated by pulsating item song "Dan Dan", picturised on supermodel and screen debutante, Nathalia Kaur.
For your chance of winning a Department soundtrack CD, simply correctly answer the following question:
Which previous Ram Gopal Varma superhit also starred Amitabh Bachchan:
1)    Satya
2)    Sarkar
3)    Rangeela
Send answers along with your name and address to editors@bollyspice.com.
Department releases in the UK on 18th May 2012 through B4U Pictures, presented by Viacom 18 Motion Pictures.