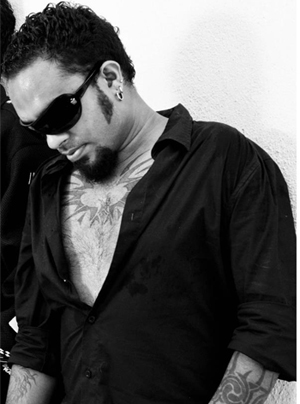 We have heard his fab music in films like Acid Factory, Hide & Seek, Knockout and Challo Dilli. The composer, with the very rock edge, has always impressed with his cool mix of dance electro synth beats and the full on rock guitar riffs he lays down. His newest OST is for the dramatic action thriller Enemmy, which stars Mithun Chakraborty, Suniel Shetty, Kay Kay Menon, Johny Lever and Mahaakshay directed by Ashu Trikha. The music director created four cool very rock flavored tracks for the film and even sang for the first time! We caught up with Gourov Dasgupta and talked creating the songs of Enemmy including working with Mithun da! The musician also gives shout outs to his team that included music producer Roshan Balu, lyricist Manthan and singers Torsha and Keshav, which we think is totally cool! Check it out!
Tell us how the project Enemmy came about?
Mimoh (Mahaakshay Chakraborty) and I have been close friends since we worked together on Tukkaa Fitt. I had expressed my childhood dream to at least meet Mithun da once if not anything else. Mimoh was sweet enough to fix up a meeting and I carried some of my music to play to the Legend himself!!!! Another music director had already composed a track much earlier for Mithun da's/Papparatzzy's first production Enemmy and I really didn't know what to expect. But after he heard my stuff all I can say is 'The rest is history'. We nailed song after song and the background score as well. Believe me, I have learnt more about life, music and everything else from this association more than what I've learnt from this industry in the last 6 years. I can't thank Mithun da enough for making this boy's childhood dream come true!!!
What was the brief the director gave you for the movie?
Ashu Trikha is one of the most veteran and knowledgable directors I've worked with. He knows his art from top to bottom – every aspect of it. Working on the music was fun and a learning experience as well. His brief was simple yet difficult to match up to: 'a massive score for a massive action thriller'! Thankfully, end of the day we were on the same page and the end result is more than what we aimed for!Have to give a shout out to the main man responsible for the immaculate score is my bro/producer/engineer Roshan Balu. I think he wanted to give Han Zimmer a run for his money!
Tell us about creating each of the tracks
Enemmy Title (Hindi): The title track comes in different montages and uplifts the basic essence of the movie. We have two versions, one in Hindi and one in English. It's the goosebump rock anthem I would say that completely captures the mood of the film in totality!! The title track is something Ashu ji, Roshan and I came up with one day while we were jamming. We actually nailed the english version 1st before the Hindi one (which I wasn't too confident about singing especially with Manthan's deeep and twisted lyrics!). Our sole purpose was to make a heavy on your face rock anthem no holds barred. In fact, I remember playin' the guitar solo in front of Mithun da and I still appreciate the love and support that he showed! Plus this is the kind of track I personally wanted to do for the longest time owing to background I come from…and hey…it finally happened!
You also have an English version which I love and is totally rocking! What made you want to do a full English version?
It's the little worm inside my head, which makes me go back to my roots I guess, all the Megadeth, Steve Vai, Nine inch Nails, Ozzy and co. keeps showing up time to time. And just the humongous faith Mithun da and Ashu ji had on doing something so different and mad within the Bollywood pallette is what made this track see the light of day. By the way I wrote the English lyrics as well. I couldn't have asked for more!!!
How close are the lyrics between English and Hindi?
Manthan wrote all the lyrics of the film. He's one of the most talented writers we have in the industry and our association goes back a long way. Both versions of the title track talk bout the same subject but are dealt with differently. The Hindi version is more on your face and talks about the corruption and hypocrisy in our system directly. Whereas I chose to tread more in metaphors with the English version that I wrote.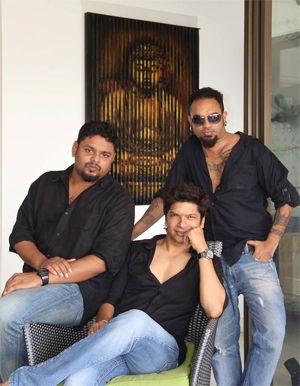 Hit The Lights: It's a complete dance track which should make people tap their feet at every club. It's used for the promotional purpose of the movie. Mudassar has directed a kick ass video to compliment the song, which has every star in the film bringing the house down! Torsha is a new very talented singer who has shared vocal duties with me on the rap section.
Bheege Naina: My favourite song in the movie. In fact one of my favorite compositions of all time. 'Bheege Naina' was the first track we did for an extremely emotional sequence, which speaks of loss, despair, longing and friendship. It comes at a very crucial point in the film and the audience is sure to cry. Manthan has written the most beautiful lyrics ever and Roshan has excelled yet again with the production values. Plus with this track we introduce Keshav, one of the most talented and gifted singers I've heard in the longest time. The track would not have been what it is without his soulful voice and personally I feel he should certainly bag the 'best debut singer' award this year with 'Bheege Naina'.
Now on this one you also sang, what went into that decision?
Believe me, I never, never wanted to sing, especially in Hindi. I had rendered the English version of the title track and that's in my comfort zone, but Mithun da felt that I could offer something completely different and mad if I sang the other tracks as well. He sat with me every day for hours and worked with/on me until I was confident enough to deliver. It's only because of his faith that you get to hear me crooning ann growling for the 1st time in my Bollywood career! Still working on my 'immaculate' Hindi diction though!!!!!!
What influences your music?
'Life' is always the biggest inspiration for me. Mom, the beautiful women who've been 'kind' to me (lol!) over the years, the cigarettes, the alcohol, the other funny substances and the various kinds of music I've grown up with Megadeth, Winger, Sting, Steve Vai, Allan Holdsworth, Nine Inch Nails, Whitesnake, Dream Theater and so on! The rest is obviously about the director/producer's brief, the song situations and the mood and tone of the movie I'm working on.
What are your thoughts on Hindi film music today?
It's really rocking and its opened up to so many different new soundscapes which allows madmen like me to express our mind through music and be a part of this massive institution called Bollywood.
What is next for you?
There are loads of releases coming up this year….besides Shaan, Roshan and I have formed a 'supergroup' of sorts called SUPERBIA (which means 'pride' in latin). We have already finished 2 films and signed a few more. We are working on a 'music 360′ module' – films, jingles, albums, gigs and much more. Our debut album is also on the way. Be tuned for more madness and muzikaa!!
Enemmy hits theaters on June 21st!