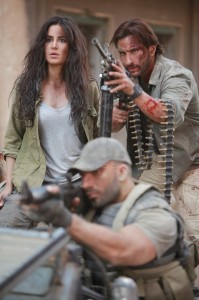 After many a rumor and many stories we finally have a confirmed release date for the highly anticipated Phantom, the Kabir Khan directed film starring Saif Ali Khan and Katrina Kaif!
Phantom, produced by Sajid Nadiadwala and UTV Motion Pictures is now slated to release on August 28, 2015.
While Sajid Nadiadwala couldn't be reached, a spokesperson from NGE asserts, "Phantom will be releasing on 28 August, this year. It's true. We're really looking forward to its release. We hope that fans continue to support us wholeheartedly and welcome the film."
Phantom is a political thriller that unfolds across various countries around the world. The plot revolves around protagonist Daniyal, whose journey to seek justice takes him from India to Europe, America and the volatile Middle East. However, he finds out that in a mission like this, there is always a price to pay, in this case, a very personal price.