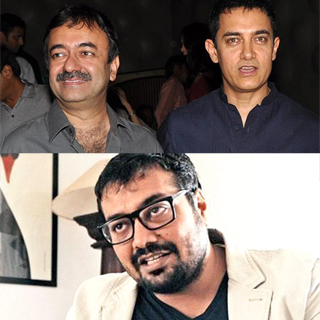 Anurag Kashyap has been a popular name around Bollywood recently. Firstly, Kashyap's separation with Kalki Koechlin attracted attention. Next, rumours of an affair with Huma Qureshi began doing the rounds. And now, the Bombay Velvet and PK controversy has taken flight.
A tweet by the lead of PK, Aamir Khan, announced that the release date of the film has been postponed from the 6th of June to 25th of December – Christmas 2014.
This tweet has sparked off confusion and controversy.
According to sources, Kashyap expressed his shock and feelings of betrayal:
"I heard some rumours some times back and hence called Raju (Rajkumar Hirani) and told him to let me know in advance if they were planning to release the film on Christmas. At that time, they said there were no such plans. All it would have taken is just a phone call,"
He further expressed his disappointment:
"It hurts because I respect Raju as a film-maker and as a person. Apart from being a colleague, he is also a good friend,"
Hirani ambiguously stated that the dates are yet unsure and avoided press queries on the matter at Jal's music launch in Mumbai, India.
Sources state that Kashyap not only approached Hirani but also approached Aamir Khan. Khan not only denied Kashyap's claim, but also matter-of-factly told Koimoi:
"I don't know which films are releasing that day. But, I have always felt that films have space with the ever growing theatres in India. Two or three films can release on the same day, there is no problem. And if both films are good, they both will do well."
However, Kashyap does not seem to agree as he stated his concerns to a separate source:
"I am not concerned about the marketing war at this point. But it's obvious that both films will be affected if they release on the same day. We may sort that out at a later stage,"
Only time will tell whether or not Bombay Velvet and PK will indeed be releasing on the same day, as will whether or not this episode will affect Kashyap, Hirani and Khan's relations in the long term.