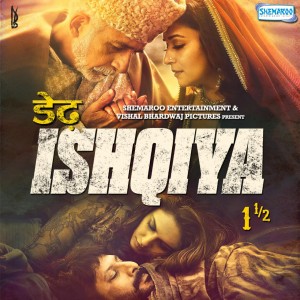 UK readers we have a special contest just for you…but more on that in a few lines. The romantic thriller, Dedh Ishqiya, starring Madhuri Dixit-Nene, Naseerudin Shah, Arshad Warsi and Huma Qureshi, is getting amazing reviews. Sequel to the hit Ishqiya, the Abhishek Chaubey directed film with music by Vishal Bhardwaj is in UK cinemas now! Talking about the sequel star Madhuri Dixit said, 'Sequels have to be better and the interest is very high. Dedh Ishqiya is completely different in terms of story, culture, atmosphere. I think the film should appeal to all audiences as there is everything for everybody; romance, betrayal, beautiful songs."
Taking on from where things were last left, Dedh Ishqiya uncovers yet another escapade of Khalujan (Naseeruddin Shah) and Babban (Arshad Warsi), a poetic journey underlined with revenge, drama and deception.The Begum (Madhuri Dixit-Nene) of Mahmudabad is hosting a festival of poetry and music in her mansion. The country's best poets are in town. Khalujan, posing as the Nawaab of Chandpur, is participating as a poet in the festival. He is not there merely to show off his poetic wares but to impress the widowed Begum who, as the grapevine suggests, is scouting for a husband – preferably a poet. Babban (Arshad Warsi) arrives in Mahmudabad to take Khalujan back to their old life but his plans change the moment he sets his eyes on Begum's maid and confidante, Munira alias Muniya (Huma Qureshi), a brash and sexy young woman. Muniya too has plans of her own. She leaves the palace every now and then in disguise to meet gangsters in dark alleys. The palace is rife with intrigue. The shayari is dropped for guns, daring chases and hidden intentions. In the end, love triumphs even if the players of the story do not. 
Now back to the contest…to celebrate the success of the film we are holding a special contest and you can win a CD of the music. All you need to do is answer the following question.
Who stars in Dedh Ishqiya?
Send your answers along with your name and address to editors@bollyspice.com Sorry this contest is only open to fans living in the UK.