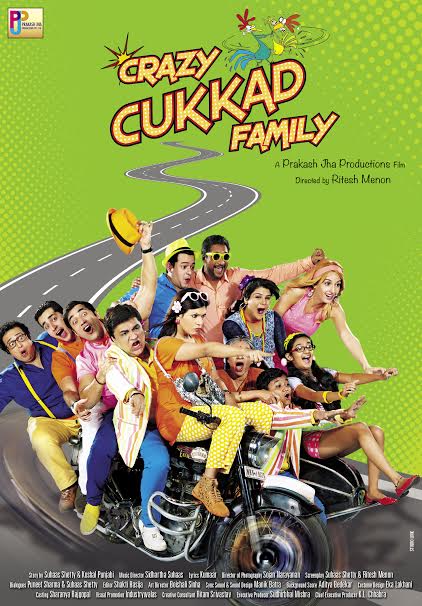 Deep rooted in Indian families these days with varying levels of intensity, there is a mash up of broken ambitions, impulsive decisions, moral conduct unbecoming and of course, the ever so spoken about battle of the mind and the heart. This is just what Crazy Cukkad Family is all about. Good thing is that it serves the truth syrup without that annoying aftertaste that may cause sulking, instead it packs it well with a whole lot of comedy right at its place. Read on to know more.
Crazy Cukkad Family, directed by Ritesh Menon, is around 110 minutes of moving portrait of a family which unlike the families of the eras gone by, has an ideal mother, servant and four out of the line kids who either are in problems or are simply not comfortable in their own skin. The movie has an entire array of known actors. Despite the fact that you don't see them on silver screen too often, you still are a lot familiar with their faces, so mentioning names here might not help.
From the list of the actors, two names that stand out based on their sheer brilliance on-screen are Swanand Kirkira and Shilpa Shukla. The renowned lyricist cum singer Swanand has done a few advertisements here and there and it is an absolute delight to see him on screen as he takes the center stage as eldest son of the family who has been involved with wrong people for the wrong reasons and is now in serious debt that he has to clear. Shilpa Shukla is the highly ambitious daughter whose dreams of being Ms. India were curbed and she was married off to 'submissive' Ninad Kamat. She does justice to her character and everytime Shilpa and Swanad appear on screen together, you get to be a part of their story, their grudges and frustrations.
The script over all is not something that you would except out of a low budget film because low budget films survive on a very strong and packed script. It does get a little too predictable in the middle but then it compensates well with the comic quirks that the movie has to offer. Some of them are so very strong that you will have a tough time trying not to snork the soft drink in the cinema halls. What the movie lacks in terms of script has been nicely matched by what it offers in terms of a bunch of laughs here and there, spread all over.
In terms of music, there is not much to talk about. There are a limited number of songs, which do justice to the whole theme of the movie. At times it is important to know that where should one stop over stuffing the movies with song. The title song that appears both during the starting and the end credits is catchy and would have you humming the chorus lines for days. In addition to that, the only other song that distinctively stands out from every other song these days is "Chaand Yeh" sung by Swanand himself. Siddhartha-Suhas as music composers for Crazy Cukkad Family have done a decent job.
At the end of it, why is that you should watch this movie? There are many reasons to be precise – Swanand Kirkire, Shilpa Shukla, family entertainment, the duration of the film, quirkiness, comic timing of the actors and ofcourse the song – "Chaand Yeh" close to the climax. Go watch this one.