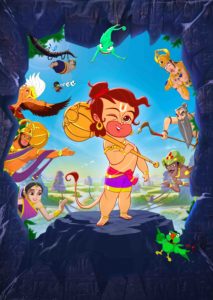 Ruchi Narain the writer and director of HANUMAN DA DAMDAAR that animation films are certainly not child's play.
When you are making a film for children, we must realise that just blasting them with fun isn't enough, quick limericks and masti doesn't make a children's film. You have to consider it like any other feature film and give it your all.
When R.A.T. FILMS decided to delve into HANUMAN DADAMDAAR, an animation film they refused to take short cuts. "We recorded the soundtrack in Los Angeles, I don't think anyone other than the makers of SAIRAAT have done that. We had the team who works with Hans Zimmer do the score and the live recordings happened in his studio. It is our dedication to give our best to the film, and when you are committed to doing that, you cannot compromise," quipped the spokesperson for R.A.T. FILMS.
Like Hanuman in the film says, "Ek baar jo maine commitment kar di…." R.A.T. FILMS makes sure they live it up!
Not only that, this was made in a very distinctive style, the actors were smacked, but before you assume anything, let us tell you that smacking is an animation technique that R.A.T. films have initiated Bollywood actors into!
"Basically we block the scene with actors and work out each characters' body language to shoot it for the animators. Because animation characters have exaggerated movements and reactions it turns out to be a hilarious process with real actors!" quipped Ruchi Narain who is directing HANUMAN DA DAMDAAR, but she could hardly control her giggles.
"I cannot get over the fact that the process is called smacking, it was so awkward calling stars over 'to get smacked'. They were like, 'Ruchi, tumse yeh umeed nahin thi…'" she laughed.
HANUMAN DA DAMDAAR with an ensemble cast featuring voice overs by Salman Khan, Raveena Tandon, Kunal Kemmu, Chunky Pandey, Vinay Pathak, Saurabh Shukla, Makrand Deshpande and Javed Akhtar is been produced by R.A.T. FILMS, presented by RNB film in association with R.A.T films and is slated to release on 2nd June, 2017