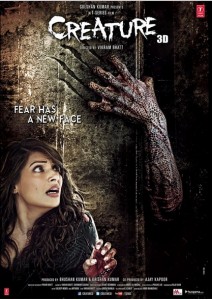 T-Series has given their fourth hit in a row- Creature 3D. Directed by Vikram Bhatt, India's first creature feature, has earned 11.34 Cr on the box-office in the opening weekend.
Creature 3D is India's first sci-fi film produced by Bhushan Kumar. The film satellite rights were sold for 12 crore and earned a weekend collection of 11.34 crore. The movie has already recovered its cost of 18 crore. The movie's music and overseas collection gave them a collection of 6 crore.
Mythological CREATURE that Vikram Bhatt has conjured that we have something to boast of, and is really appreciated by Indian audiences, specially the kids. The whole VFX of creature is done purely by Indian VFX artist.
Unlike  most others who have attempted to have CGI characters in their films; CREATURE makers have not restricted the minutes  of screen time that features this imaginary being. The 3D effects were the icing on the cake for the children who have always looked forward to the Hollywood creature films. With the Indian creature being liked and appreciated by audience one can expect a sequel to this hit franchise.
Creature 3D, starring Bipasha Basu, Imran Abbas, directed by Vikram Bhatt, is produced under the banner of T-series.