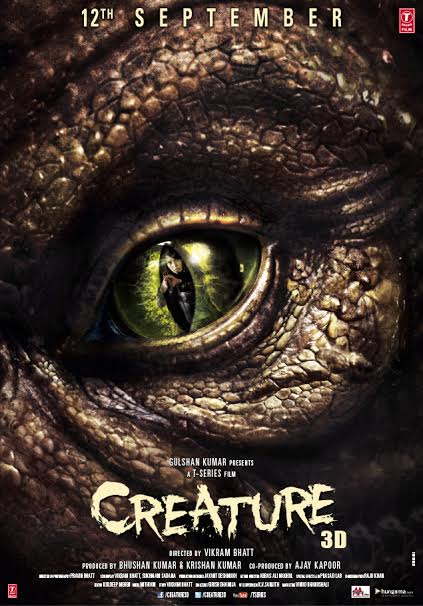 Creature 3D is an upcoming horror film which has been directed by Vikram Bhatt. Starring Bipasha Basu and Pakistani actor Imran Abbas Naqvi in the leading roles, the film is scheduled to release on 12 September and promises to be a gripping monster film which is somewhat new for Bollywood. The music and lyrics have been composed by Mithoon and Tony Kakkar, with the former being famous for producing albums like Aashiqui 2 (2013) and Ek Villain (2014). So does Creature 3D have any zing to it that makes it worth your time? Read our review to uncover our verdict!
To start off we have 'Sawan Aaya Hai,' which has been sung by the immensely talented Arijit Singh. I very much appreciated Arijit's silky voice and he makes the song feel all the more romantic. The music has a cross between modern and traditional sounds, with instruments like the guitar, piano and flute giving it a nice Indian touch. I also really love the lyrics which have been wonderfully penned by Tony Kakkar and make it sound all the more meaningful. Kakkar has also performed an Unplugged Version of 'Sawan Aaya Hai,' which I found to be not in the same league as Arijit's version and sounds a bit too eccentric for my liking. Definitely do give the original version by Arijit a listen as I think it has many positive qualities to it which you will most likely relish.
Next is 'Hum Naa Rahein Hum' by the splendid Benny Dayal. I like how the music kicks off in a hauntingly tone with the use of the piano. This then moves swiftly to some nice strumming of the guitar, with the flute also incorporated in to it. In addition, I found Benny's voice to complement very well with the composition and he really does sing his heart out. I was quite surprised to find myself falling in love with this song and didn't expect it to have such a strong effect on me. Hence, you must check out this slow, yet catchy number as I think it has been superbly composed and written by Mithoon and deserves your attention!
Following this is 'Naam-E-Wafa' which has been performed by Tulsi Kumar and Farhan Saeed. Though it's not a impactful as the former two songs, I still think it has some appeal to it. I certainly think Farhan deserves credit for belting out some soulful vocals which will touch the hearts of many listeners. He's so good that I actually think you forget about the music itself and your mind tends to concentrate more on his wonderful voice. If you do listen to this one, then do so only for Farhan.
'Ik Pal Yahi' is next and is sung by Saim Bhatt. I found this particular song to be bland and unfortunately it's perhaps the weakest one in the album. Though some of the lyrics, as well as Saim's voice do attract your attention, I found the music to be the wrong choice for a song like this. The rock themed composition just does not match the respectably written lyrics and given that this is a Mithoon composition; I had high expectations for this one. Try it out and see whether or not you agree with us.
Finally to close the album we have 'Mehboob Ki' which has been written, produced and sung by the great Mithoon. The song starts in a slightly odd manner with the playing of some squeaky trumpets, which is a bit of a put off. This then falls flat completely and I just found it to be a really boring and uninspiring listen. As talented as Mithoon is, I just did not warm to this song, which needs a serious upgrade with regards to the music arrangement.
Before bringing this review to a close, I should say that the music to Creature 3D has a number of high points to it that makes it worth a listen. Yet having said this, I found songs like 'Ik Pal Yahi' and 'Mehboob Ki' to be weakly composed and downgrades the overall quality of the album. A quick mention should go to the remix versions of 'Hum Naa Rahein Hum,' 'Naam-E-Wafa' and 'Sawan Aaya Hai' that have also been included in the album; all of which were tedious to listen to and makes you wonder why remixes need to be consistently included in Bollywood soundtracks. Creature 3D is not one of the best albums to release this year. However, having said this, I still think it contains some songs that you will very much appreciate and grow to love.