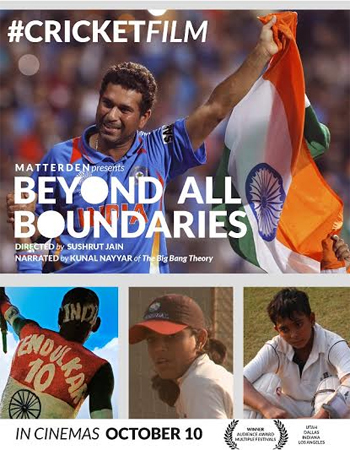 One of the most popular and acclaimed Indian faces in Hollywood, the TV show The Big Bang Theory star Kunal Nayyar, who plays scientist Rajesh Koothrapalli in the award winning show, has voiced and produced a prolific documentary on cricket, Beyond All Boundaries, and after many festival laurels, it is finally releasing in theaters here on 10th October.
The documentary is presented by Enlighten Films, directed by Sushrat Jain and tells the stories of three ordinary Indians, a penniless superfan, a boy superstar and a girl cricketer, for each of whom cricket is a lifeline.
Synopsis
As India, host of the 2011 World Cup of Cricket, begins its campaign to win the Cup after a 28-year drought, three ordinary Indians – a penniless super fan who cycles across India to cheer the team, a 12-year old cricket prodigy, and a girl cricketer from Mumbai's slums – seek their salvation/escape from a difficult life through their passion for cricket.
It is the spring of 2011 and the World Cup of Cricket is being held in India. On every street corner and in every village, children play cricket. The country's obsession with the sport is unparalleled and it is the only thing that transcends India's deep divisions of language, religion, region, class, and caste. For almost half a year, the makers followed three Indians, for each of whom the sport of cricket is a lifeline. In the struggle and triumph that make up their journeys, we get glimpses of the hope and despair that characterize life in modern India.
Sudhir Kumar – a 30 year-old superfan who for the past ten years has attended every India home game – makes it to matches often by cycling a thousand kilometers. He has one dream – for India to win the World Cup after a 28-year drought. Prithvi Shaw – a twelve-year old boy from a humble background – is breaking several long-standing Mumbai school records in batting. Coaches, players, and even local politicians speak about him in hushed tones, convinced he is the next Indian cricket superstar. His mother died when he was three, and his unemployed father has great ambitions for him. In a world dominated by boys and men, a group of girls dressed in cricket whites practice hard every day in one corner of Mumbai's famous Shivaji Park. A standout among them, Akshaya Surve, bowls with the fierceness of a professional cricketer. She shares a small room in a Mumbai slum with her mother. We follow her as she prepares for and takes part in the selections/tryouts – her last chance of breaking in to cricket and having a future beyond the slum.
The film had its World Premiere at the Dallas International Film Festival in April 2013. It subsequently screened at the Arclight theaters in Hollywood as an official selection at the Indian Film Festival of Los Angeles (IFFLA), the premiere festival of Indian cinema in the world. At IFFLA, Beyond All Boundaries won both the Audience and Jury Awards for Best Documentary Feature. And after all the acclaim, the Documentary is finally hitting Indian theatres!
Says Kunal Nayyar, "I am so excited to finally be able to bring Beyond All Boundaries to Indian audiences. In my opinion, it's the ONLY film I've seen that fully captures India's passion for cricket. It's a big fun film and if you're a cricket fan and you want to relive our once-in-a-lifetime 2011 World Cup victory you cannot miss this film in the theaters. Because of The Big Bang Theory, I've received so much love from fans in India. I've wanted to give back for a long time and I feel that by producing Beyond All Boundaries – the ultimate India cricket film – I've tried to do that.
This film is bound to be loved by Indians and it is my gift to every Indian who cares about cricket or his country. After winning awards at film festivals all over the world, Beyond All Boundaries is finally going to play in theaters in India. If you're an Indian who loves cricket or simply loves your country this is a film you have to watch. It's entertaining, emotional, and it's real in a way so little in cinema is anymore. I was excited to be a part of this project because it's about three people who live and breathe cricket and as a lifelong cricket fan I simply had to be associated with this film. If you're Indian you cannot miss this film in the theaters. It is an incredible journey not just about India's amazing 2011 World Cup win but also about the lives of these three amazing Indians. I'm proud of my role in bringing this film to Indian audiences." says Nayyar.
"I'm so thrilled to be able to bring Beyond All Boundaries to Indian audiences. Not just because I'm the filmmaker but because it's a must-see film for an Indian cricket fan, or for any Indian who enjoys good cinema. The film has had a very successful run in the West at film festivals but ultimately this is a film for Indians. Cricket in India is unlike any sport in the Western world. And there has been no film about cricket like Beyond All Boundaries. The film not only captures the 2011 World Cup with all its high drama but also tells the stories of real Indians for whom cricket is a way to a better life.Both Kunal and I grew up in India playing and loving the sport of cricket. For both of us, making this film, which captures India's 2011 World Cup win and also the incredible passion for cricket in India was a dream project. For me personally, this film was a labor of love and I'm delighted to finally be bringing it to Indian audiences" adds Director Sushrut Jain.
All you cricket crazy fans make sure you do not miss this one on 10th October 2014.