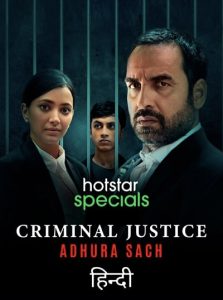 Criminal Justice: Adhura Sach (Disney+Hotstar)
Starring Pankaj Tripathi, Shweta Basu Prasad , Purab Kohli, Swastika Mukherjee
Directed by Rohan Sippy
"Juvenile cases make me uneasy," confesses cop Gauri Karmakar(Kalyani Mulay) to her senior as they stroll to the scene of the crime where a 12-going-on-10 year old girl has been murdered.
Gauri,if you remember, had marital issues with her husband in the second season. Men in Criminal justice don't like their women working. Our lawyer-hero Madhav Mishra can barely tolerate his wife's ambitions as a beautician.
Luckily , Criminal Justice: Adhura Sach doesn't get into gruesome details of the crime. This is not to say that proceedings are conducted on a superficial level. The astutely conceived story is intriguing: the whole culture of pushing a juvenile star into premature stardom , and not allowing Zara(Deshna Dugad) to grow any older than 10 as that's the age of her cult character Bittu in a long-running serial, reminded me of Avika Gore in Balika Badhu.
This one is another kind of gore. Writer Bijesh Jayarjan succeds in not steering the plot into a bore. I haven't seen how the whodunit pans out(what is the rationale behind streaming only one episode at a time?) but so far , so clenched.
However be warned: our beloved underdog attorney Madhav Mishra(Pankaj Tripathi) makes an appearance only in the middle of the second episode. Madhav is still trying to come to terms with the presence of his wife(played by Khushboo Atre) in his life. The best dialogue of this season comes from Madhav's wife: "Please don't mumble under your breath. You don't look sexy."
Touche.
Criminal Justice never falls short of expectations. There is an admirable fluidity in the storytelling. Season 3 of Criminal Justice doesn't dither in its dramatic progression. Written in a rapidly moving stream of crime-centric consciousness, the series, like its lawyer hero Madhav Mishra, never judges its characters although the show is all about judgement and justice.