Written by Christina Hunter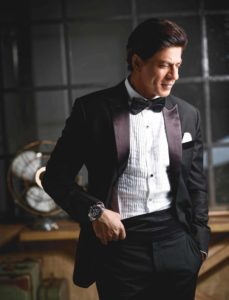 For most people, it's only natural to develop a crush on a celebrity. They're in the spotlight, on magazines, doing interviews, and sometimes successfully acting in your favorite book to movie adaption.
It's almost impossible not to fall in love with them. Their charisma, charm, good looks, talents, I could go on… For some, it was Leonardo DiCaprio in Titanic, Taye Diggs in When Stella Got Her Groove Back, or Lupita Nyong'o from Black Panther. For me, I experienced love at first…film…I guess you can say, with an actor from a place far from Hollywood.
Yes, my love traveled from Rodeo drive to Marine drive.
Picture it, the year was 2005 and the movie Aziz Mirza's 2003 film, Chalte Chalte.
Me, being a young impressionable preteen, didn't stand a chance to…him. I was captivated by his dark hair, his eyes, and oh those dimples. And I didn't fall in love with just anybody, I fell in love with the King of Bollywood, Shahrukh Khan.
As the years have passed, Shahrukh's filmography has grown but my love for him has never withered. I have, however, observed an adored some of Shahrukh's greatest films. So, it got me thinking…if I could switch places with some of his leading ladies and perform some of these major musical hits; what would they be?
So here is a list of my top 5 Shahrukh Khan film songs I'd love to perform with him.
1. Tumhi Dekho Naa – Kabhi Alvida Naa Kehna (2006)
2. Manwa Laage – Happy New Year (2012)
3. Zaalima – Raees (2017)
4. Tujhe Dekha To – Dilwale Dulhania Le Jayenge (1995)
5. Kuch Kuch Hota Hai – Kuch Kuch Hota Hai (1999)