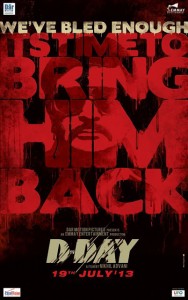 D-Day is the latest offering from director Nikhil Advani (Kal Ho Naa Ho & Patiala House), a crime thriller starring Arjun Rampal (Ra.One & Raajneeti), Rishi Kapoor (Agneepath & Auranzeb), Irrfan Khan (Paan Singh Tomar & Life of Pi), Shruti Hassan (Luck & the upcoming Ramaiya Vastavaiya) and Huma Qureshi (Ek Thi Daayan & Gangs of Waseypur).
The film features music from Shankar Ehsaan Loy, lyrics from Niranjan Iyengar (My Name is Khan) and the vocal talents of Mika Singh ('Subah Hone Na De' – Desi Boyz), Javed Ali ('Guzarish'– Ghajini), Rekha Bhardwaj ('Ghangra'– Yeh Jawani Hai Deewani), Sukwinder Singh (Matru Ki Bijlee Ka Mandola – title track) amongst others.
D-Day is set to release on 19 July 2013.
The album begins with Mika Singh, Gaurav Gupta and Mani Mahadevan bringing an "oldie but a goodie" back to the forefront. Shankar-Ehsaan-Loy's re-composition of Dum Dumma is certainly in sync with this era. The enthusiastically arranged sufi reincarnation works well and the Mika makes it worth you while.
Alvida is easily the best the track of the album, Nikhil D'Souza and Shruti Hassan deliver a hauntingly bittersweet track against the background of a beautifully arranged and well-penned track. However, who really sells the track is Sukwinder Singh, who drives in the song's intense sentimentality with his strong vocals.
Murshid Khele Holi at 7.34 minutes is arguably more drawn out than needed but being situational in nature, it probably works well amidst the film's narrative than on its own. In any event, it is a well composed qawali with impressive vocals from Javed Ali, Shankar Mahadevan and Munawar Masoom and equally impressive lyrics from Iyengar. If you enjoyed 'Arziyan' from Delhi 6 or 'Kun Faya' from Rockstar you will definitely take a liking to this one.
Ek Ghadi, a classical number rendered by Rekha Bhardwaj, is relatively unremarkable. It is easily comparable to 'Saans Albeli' and 'Kaun Si Dor' from Shankar-Ehsaan-Loy's previous outing Aarakshan and the predecessors were far more impressive. Ek Ghadi's tune and melody are rather so-so and like 'Murshid Khele Holi' it overstays its duration.
The album closes with Dhuaan. It is a situational track featuring a dramatic musical arrangement, fresh vocals from Rahul Ram and Siddharth Mahadevan and decent lyrics. As with 'Murshid Khele Holi', one expects it to make more of an impact once witnessing it as part of the film's narrative.
In summary, films such as D-Day do not have much scope for music and whatever songs are composed share a strong symbiotic relationship with the film, one slightly lost without the other. Regardless, Shankar-Ehsaan-Loy have managed to compose some decent tracks. 'Alvida', definitely makes a strong impact and resonates with the listener regardless of the existence of the film. The remaining tracks are more/less forgettable without the film, for the lack of a better word, validating it.