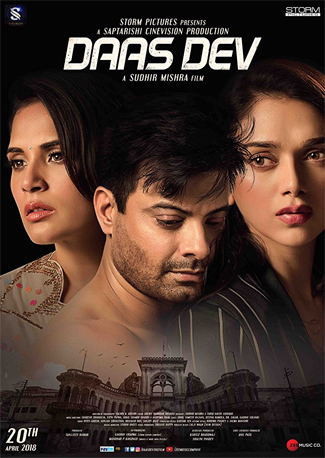 By Swarup Chakravarthy
Devdas is a well known and classic love triangle written by Bengali writer Sarat Chandra Chatterjee. It's been adapted and made into 13 different iterations, which while being faithful to the story, have been done in 5 of India's major languages both in the original time period as well as fitting in with the times. The main character Dev has been done by Dilip Kumar and Shah Rukh Khan and supported by so many famous actresses that it is hard to list. It has been directed by greats like Bimal Roy and Sanjay Leela Bhansali. Since 2010 however, Devdas has been re-interpreted into a few new and different guises including Dev.D and Dev DD. Sudhir Mishra takes his version of Devdas down this line by flipping it on its head as Daas Dev, releasing in cinemas 27th April. Starring Rahul Bhat as Dev, the key roles of Paro and Chandani (i.e. Chandramukhi) are taken by Richa Chadha and Aditi Rao Hydari.
As is the 2018 way, the music is being handled by the collaboration of a lot of music directors and singers. The challenge here is that the previous film adaptations of Sarat Chandra's epic have heavily reliant on their songs to provide important story cues, powerful moments and make powerful statements which were not in the original novel. So, while the songs themselves will be well defined, they will also be heavily constricted in the bubble of Dev, Paro and Chandani. This has meant some epic but sad love songs over the years, but this album will have to take that legacy on and deal with the new angle introduced in this version. Let's see how they fared.
Atif Aslam is having a good 2018 opening, with major songs on the albums for a few recent movies. Vipin Patwa asks the same of him here with Sehmi Hai Dhadkan. A slow sombre marching beat and rhythm achieved using a background chorus, piano and synth instruments make this song perfect for Atif's dull tones. He struggles to find any way to make this song sound interesting and since it's all on him due to the quiet background music, it makes this song hard to like. A drum sound is used well to break up a lot of the lines but its very repetitive and seems to be heavily stop start rather than the smooth flow we've come to expect from Atif. Most likely to be used to aid Dev's recovery under the watchful eye of Chandani having seemingly lost it all.
For the second song, Rangdaari Arko Mukherjee brings in Navraj Hans to deliver a power play with a club beat. This song personifies the anger of losing Paro for Dev. Likely to be to do with the point of the film where Paro disappoints Dev by ultimately choosing to follow her family's wishes rather than her heart. Loud, brash, heavy synth beats backing short and sharp vocals, this is Dev's heart screaming out. Rhythm is provided between piano and electric guitar as a symbolism between Dev's sadness and his fury.
Sandesh Shandilya is given the item song of the film Challa Chaap Chunariya. Held at a wedding with all the major characters involved, the song itself seems to be of little consequence in the video on Youtube which an unheard manipulation seems to be carried out between the main three. The song itself is not done well as Rekha Bharadwaj does not put in a job up to her usual standards. The song itself is a classical song with a modernisation provided by a club beat. Even the lyrics don't seem to matter much as even the title of the song only appears 3 times within the song and there isn't much emphasis on the traditional chorus verse form of most songs.
Raat Youn Dil Main Teri is a sensual cool jazz piece that comes up next on the album but doesn't go as far as to be called sexual. Sung by Papon and Shradha Mishra, there is certainly flirtation given by muted trumpet backed up by soft synth drums, light piano and strings with a strong reverb. The lyrics don't point to any specific point in the story, but this could be the song for Dev to get drunk on till ruin when the loss of his beloved Paro hits him while her wedding shehnai rings out.
Don't keep me tied to the old memories says the next song. Azzad Kar is sung loudly by Swanand Kirkire under Anupama Raag's musical direction. This seems to be Dev breaking free of the shackles placed on him by not only Paro's memories but the unconditional love of Chandani which he decides to break free of. In traditional versions this is usually the point Dev dies thus ending the story, but this lively, angry, loud and heavily drum based sound say that this will be quite the opposite. Unlike the other songs there is no use of synth, only tambourine, tabla and western drums giving a heavy background to a rhythm section of ektara and bongo drums and of course the singer providing melody. The freedom sweeps up the listener so may not be a good idea to have in the car but one for the playlist possibly.
Vipin Patwa seems to have been inspired by the previous song to give us Tain To Uttey, sung by Javed Bashir. It seems to start out as a run-of-the-mill folk song but after the first verse it becomes a modern remix rock anthem of itself. Without losing the classical and Hindustani folk element, Vipin now adds electric guitars and a full drum kit. This feels like the power and success coming from hours of grinding hard work. As this may be accompanying a montage the sound is very repetitive and quickly allows the audience to settle into the song once the shock beginning has hit.
Finally, the album is rounded out with Marne Ka Shauk. As mentioned Devdas usually ends with the death of Dev and this song is certainly the perfect epitome of that sentiment. However more anger, more pain is brought to bear in the song through background electric basses and a drum used sparingly to hit out. Papon and Krishna Beura are both strong in their performances and make sure both the classical and the heavy rock feel are melded seamlessly, but the song becomes very repetitive again which means over the song the well-used drum has less and less effect.
We cry without reason, we feel pain without reason and those who yell out are cowards. This seems to be the message of a lot of the songs in this album and thus its gone against everything that is Devdas without breaking away from its boundaries. The album hits the anger points well but is often repetitive, thus making strong points but not being able to hold onto them by engaging the audience. However, while there are no really special songs that stand out on their own and could be the song that define the album, each song plays its part and since all the songs are original, the album overall is refreshing even when compared to previous Devdas albums.