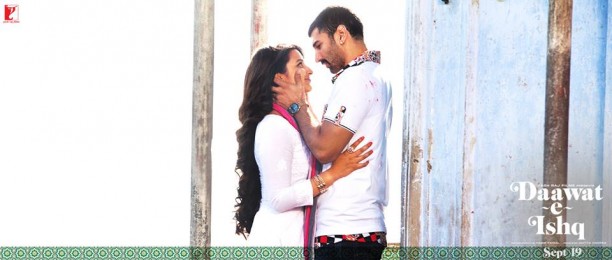 He has an eye for detail, keeps it real and brings to the screen the India we seldom see in our cinema. That is Habib Faisal for you. His latest outing promised to be a tale driven by the creative cuisines of our fine nation. However what starts of as a promising film about love, life and food soon turns into a two hour too-long tedious journey that you cannot wait to finish.
Unexplainably US obsessed Gulrez Qadir aka Gullu (Parineeti Chopra) thinks that the so-called land of her dreams is what she needs to become a successful shoe designer. But for her father (Anupam Kher) the only dream he has is to find a nice boy for his daughter so he can marry her off to and finally be rid of his fatherly duties. So he lines up boy after boy to meet his MBA graduate daughter which she of course effortlessly drives away. What all these alliances have in common is the creative talent of disguising unreasonable dowry demands as "help" or some other innocuous term. At first Gulrez thinks a sophisticated educated boy will surely not stand such monstrosity in the 21st century but when her one month old boyfriend Amjad aka Amju (Karan Wahi) also fails to use his ability of speech in front of his parents ridiculous demands, she swears of marriage.
Until this point you're invested in the film and in Gullu's struggles but the makers expect you to believe that the most reasonable reaction to have after a string of such bad experiences is to con a dowry hungry family, Tariq Haider's (Aditya Roy Kapoor) family thereby taking advantage of the Indian laws set in place to protect victims of dowry demands. At this juncture you lose all interest in Gullu's struggles and thus, in the film.
What starts off as a light and relatable film which very candidly questions a deep rooted problem of our society soon turns into a illogical story of a mad girl! The writers treat the otherwise very serious issue of dowry and the legislative scheme that attempts to wipe it out like child's play and this is perhaps the most insulting part of the film.
The actors of course try to rise above the deeply flawed script and keep you engaged but you're all too disinterested even before the interval portion. How else do you justify sighing when the words 'interval' appear on the screen and saying to the person next to you "Oh no there's more!"
Parineeti Chopra does nothing we have not seen her do before. Sure she's more tamed than usual and she attempts a new accent but her performance is nothing to write home about. Aditya Roy Kapoor and Anupam Kher on the other hand impress greatly. Aditya tries something very new and to a large extent succeeds in doing so. Because the script is so convoluted you end up empathising with his character the most. Albeit Tariq is perhaps the most unexplained part of the film. He just suddenly appears on your screen with all his attitude and in his delicious glory, sings a few songs and before you know it it's the climax. Clearly character development is not Faisal's strong traits these days. Anupam Kher is top notch as Gullu's supporting father. He does vulnerable in the cutest way possible. His character is possibly the better part of the writing but even then you question how a simple minded middle class father would ever agree for his daughter to go ahead with a fake nikkah with a perfect stranger. Karan Wahi is given all of 10 mins and a montage song to make an impression. Here's hoping his multiple films contract with YRF gets him more than just this in the future. And lets not even get started on the chemistry between the actors. Baring Anupam and Parineeti, the film is as cold as it comes if you talk about fire between its lead stars.
You hope that when a script lets you down at least you can derive some little pleasure from the songs however sadly that is not the case here. Here the songs are anything but entertainment and are used to propel the half baked storyline to ensure the writer does do not have to do any real writing. Sonu Nigam's Mannat does leave an impression however you cannot help wonder if it's a forgotten track from the 90s.
Frankly this Yash Raj daawat expects all too much from it guests. It promises to invigorate your mind, stir your emotions and make you smile but does none of those things. Instead it insults your intelligence, strikes no emotional connection and makes you frown all the way long.