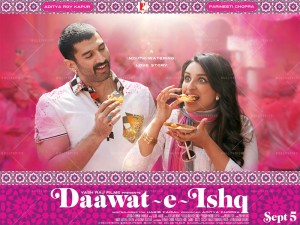 Daawat-e-Ishq not only features the brand new jodi of Aditya Roy Kapoor (Aashiqui 2) and Parineeti Chopra (Ishaqzaade) but sees Sajid-Wajid (Dabangg) composing their first Yash Raj venture. Needless to say, music enthusiasts are curious to see what is in stock for us from this unlikely merger.
Daawat-e-Ishq's songs have been penned by Kausar Munir while vocalists featured on the soundtrack include Sonu Nigam ('Abhi Mujhme Kahin' – Agneepath), Javed Ali ('Tera Deedar Hai' – Jannat 2), Sunidhi Chauhan ('Sheila Ki Jawaani' – Tees Maar Khan), Shreya Ghoshal ('Chikni Chameli' – Agneepath), Shalmali Kholgade ('Pareshaan' – Ishaqzaade) and Wajid ('Jalwa' – Wanted).
The title track opens the soundtrack and is an energetic qawaali/electronica by Javed Ali and Sunidhi Chauhan. Ali and Chauhan make a brilliant pair and complement the lyrical back and forth well. Munir's expert grasp of Urdu is only surpassed by his impressive culinary innuendos. All in all, a powerful start to the soundtrack.
Sonu Nigam's rare presence is unfortunately undermined due to the ill-conceived Mannat. It gets off to a promising melodious start but quickly becomes an aged dramatic number that is immediately off putting. Similarly, the reprise gets off to a beautiful start, expertly penned by Munir and aptly crooned by Ghoshal but as soon as the chorus hits, the cringe-worthy theatrics takeover and the beauty fades, fast. If you were expecting to listen to a new Sonu Nigam number and delve into bittersweet nostalgia of his golden era, prepare to be sorely disappointed.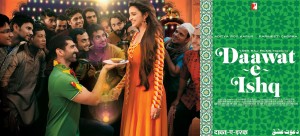 The disappointment continues with Rangreli, which sounds just as aged and dated as 'Mannat', if not more. The baraati-brass gets old quickly and the lyrics are not impressive either. Wajid and Shreya do deliver enthusiastic renditions but ultimately 'Rangreli' is mediocre fare.
Shayarana comes as a savior in the form of a rock-ballad-meets-qawaali by Shalmali Kholgade. Comparisons will be inevitable so let it be known that it is a far cry from Amit Trivedi's 'Pareshaan', but a light, all the same, at the end of the dank and dark tunnel that is this soundtrack. Ultimately, it is quite a girly and peppy number and Shalmali encapsulates that beautifully. That being said, it comes off as a bit superficial and ends up being a number that is strictly OK as opposed to genuinely impressive.
Jaadu Tone Waaliyan, unbelievably, combines all that is dismal about 'Rangreli' and 'Mannat' and creates truly tragic fare. The lack-lustre vocals and the re-plugging of rock and qawaali fails miserably. Moreover, the sense of being outdated is more prominent than ever.
Fortunately, the album ends on a good note with Dawaat-e-Ishq, a disappointingly short instrumental with a myriad of beautiful sounds.
In summary, Daawat-e-Ishq is possibly the most disappointing soundtrack from the house of Yash Raj. The tracks suffer from a serious case of mediocrity and outdated-ness that suggests Sajid-Wajid should contemplate re-evaluating their compositions. Here's hoping the film fares better.