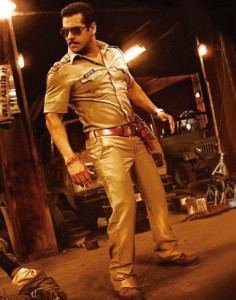 It is being reported by trade experts that Salman Khan's upcoming release Dabangg 2 has a value of RS. 180 Crores, a very impressive record for a Bollywood film! Most of the Indian territories have already been sold the rights to exhibit the film, with only a few left for negotiation by the Khan family. In addition, reports suggest that an Indian TV channel has purchased the satellite rights to the film at a staggering RS. 45 Crore.
Trade consultant Amod Mehra has expressed to the Indian media why so many distributors are lining up to buy the rights to Dabangg 2. "This is the highest valuation for a Bollywood film till date. Obviously, it is the Salman Khan factor, the success of the earlier Dabangg, the rise in satellite prices and the increased number of cinema halls playing Hindi films across the globe that gives the sequel an edge." Trade experts have also highlighted that the phenomenal success of Salman's last release Ek Tha Tiger has contributed towards Dabangg 2 acquiring a high value.
There is only one question which now remains: will Dabangg 2 be even more successful than Salman's previous films? We will have to wait and see when it releases in cinemas worldwide on 21 December 2012. No pressure then Salman!