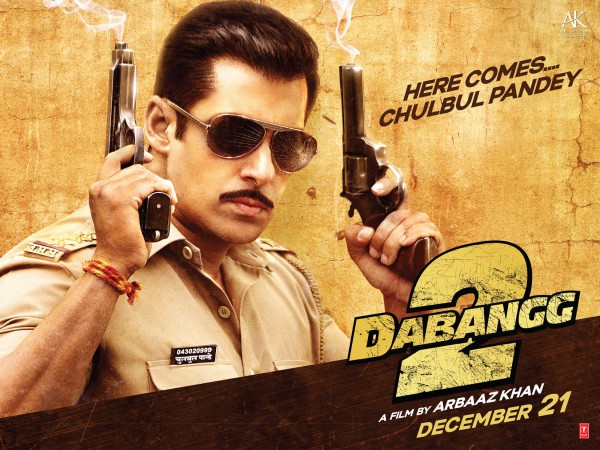 Friday, December 21st saw the return of Chulbul Pandey to the silver screen in Dabanng 2. A sequel to the original superhit film this time Arbaaz Khan replaces Abhinav Kashyap as director in the masala action romantic comedy. During the pre-release promotions for Dabangg 2, many fans were perhaps questioning what the next installment will have to offer. Most importantly, will it deliver the same quality of entertainment which we saw in Dabangg? Well after having seen Dabangg 2 from start to finish, it can be said with confidence that it is pretty much on par with the first film – read on to find out more!
Starring Salman Khan, Sonakshi Sinha, Arbaaz Khan and Vinod Khanna, the film sees the iconic Chulbul Pandey returning to defeat a new set of bad guys in this masala film. In Dabanng 2, Chulbul is seen tackling the vindictive politician Baccha Bhaiyya after having been transferred to the city of Kanpur. He is committed to ensuring that the city is kept safe from such goons whilst being a devoted husband, as well as trying to improve relations with his half-brother and stepfather.
Although Dabangg 2 is not free from flaws, if you loved the first one, then you will enjoy the second one on an equal level. It contains a cocktail of action, romance, drama and comedy, which keeps the film alive throughout. Though there are some holes in the script which could have been reworked, it works nevertheless. The film does not leave you feeling that you have wasted two hours of your life watching it! One of the qualities which I admired most about Dabangg was the fact that it was set in a purely Indian context. This is especially since many Bollywood films that are being made today tend to be set in a Western location. With Dabangg 2, the presence of India is pretty much there and the great cinematography and production really helps to illuminate the beauty of this fascinating country. The dramatic elements which are mixed into this film are what keep the film from falling apart. If it was just purely comedy and action, then I probably would have fallen asleep before the interval. The fact that some serious scenes are included also is what helps to sustain interest. However, you need to have liked Dabangg to fully relish Dabangg 2, since they are both the same when it comes to genre. Arbaaz Khan makes a steady debut as director. He has done a respectable job with this film, especially since it is his first time in the director's chair. Whether it was him or Abhinav Kashyap directing it, however, the end-result would be pretty similar.
Salman Khan is entertaining as the charismatic Chulbul Pandey and he has fast become one of the most memorable film characters to have surfaced from Hindi cinema. Yet some of the action sequences which Salman partakes in the first half of the film are clearly unrealistic and done with the use of strings or other forms of technology. Despite this, that entertaining feeling which was previously experienced when seeing Dabangg came rushing back with this film. In the end, it is really Salman Khan who carries the entire weight of the second instalment on his shoulders. He ensures that his character is a delight to watch on screen from beginning to end. This is quite extraordinary since Salman does not need to engage in any kind of intense acting for this particular role. It is more of a fun role rather than a serious role, but he impresses you nonetheless!
However, one of the major disappointments was with Sonakshi Sinha's performance as Rajjo. Although she was part of some major scenes, she was really just a piece of decoration throughout the film. She was there to look pretty and nothing more! This is unusual, especially since she made a very good debut with Dabangg.
To a large extent, Prakash Raj does his job right as the notorious villain Baccha Bhaiyaa. His character is convincing, but there is nothing unique about it. He is just one of the many villains we have seen in Bollywood over the past few decades. Vinod Khanna delivers a satisfactory performance, with little to critique about. Yet wish the same for Arbaaz Khan, who is rarely seen in the film as Chulbul's half-brother Makkhi. His presence was not as greatly felt in Dabangg 2 compared to Dabangg and his performance was weak in the few scenes which he appeared in.
The music to Dabangg 2 is catchy and full of energy and this is one of the strong points of the film. You are left waiting anxiously for each song to pop up on the big screen. These include songs such as 'Dabangg Reloaded,' 'Dagabaaz Re,' 'Pandeyji Seethi,' 'Saanson Ne' and of course, Kareena Kapoor's item number 'Fevicol Se.' After having seen the video in full, it certainly is one of the best item numbers to have emerged in 2012, along with Katrina Kaif's 'Chikni Chameli' from Agneepath. Music composers Sajid-Wajid have definitely worked hard to live up to public demand, especially since the soundtrack to Dabangg was such a raving hit! With the soundtrack to Dabangg 2, you are left feeling satisfied with the great music that has been crafted by the dynamic duo.
Dabangg 2 is not a film for someone who restricts themselves to watching art-house cinema. However, if you enjoy watching a variety of genres from Hindi cinema and are willing to give anything a go, then this may well be the film for you! Dabangg 2 is certainly not one of the best films to have released in 2012 and much better films have come out over the course of this year. Yet Dabangg 2 is like a tin of baked beans; you know what you are getting before you even watch it. Hence, was not surprised with the general layout of the film and what it has to offer.
Overall, Dabangg 2 is definitely worth the watch! So before the year ends, make that trip down to your local cinema to see Chulbul back in action!
Our rating 3 stars leaning heavily towards a 3.5!