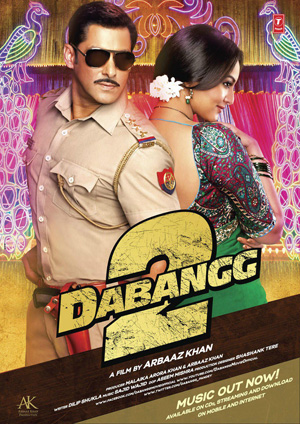 After Jab Tak Hai Jaan and Son of Sardaar have battled it out theatres, we can now shift gears and return to that 'other' hugely awaited gem Dabangg 2! The anticipation has always been there, but the promotions have been lying low until the teaser trailer and "Dagabaaz Re" were released last week. Our lovable rogue Chulbul Pandey is back, fighting off more villains and romancing his wife Rajo (Sonakshi Sinha). The promos have increasingly been impressive, with Sajid and Wajid back as music directors for this huge film. When Dabangg to came out, it was hailed as a gamechanger, because it brought back that 80s masala revival and a rustic and desi sound that has made its way on nearly every album since. Thus, Dabangg 2 is keenly awaited on all counts, and Sajid and Wajid pitch in a good effort with this album.
Rahat Fateh Ali Khan is in extremely high demand these days, and that makes his ubiquity a tad overdone at times. Yet leave it to, Sajid and Wajid to reenlist Rahat for a track like Dagabaaz Re, which complements his style and distinctive voice. There's no unnecessary screeching here, as Khan sounds wonderful with the lilting composition that has such a warm sitar melody throughout. The song does sound very similar to its predecessor 'Tere Mast Mast Do Nain', despite this the song has a dreamy feel with its tabla backbeat layering the track and the effective chorus. While I love Shreya Ghosal, she simply wasn't needed here as her verses are superfluous to Rahat's fabulous sound. Keep this on repeat!
Pandeyji Seeti is an interesting song, with its reference to Manna Dey's classic song 'Chalat Musafir' from Teesri Kasam. It uses that central melody but makes it far busier and louder with its brass band sound. The song is loud and slightly fun with its  dhols, tablas and ganpati beats. At some points it does get to be a bit cacophonous, mainly built around Salman developing another inane dance move. Though it does get you in a dancing mood, it feels a bit hollow by the end. The lyrics by Jalees Sherwani are typically masala and full of amusing Hinglish! The singers do the best they can against all the chaotic sounds. Wajid is developing as a singer, especially as he adds a lot of rustic charm to the proceedings, which completely suits Chulbul Pandey. Munni is back along with a Malaika and Mamta Sharma, though Sharma only gets a small verse she gets you hyped to see how this song will look on the big screen. Again, Shreya Ghosal's verse is a bit of dampener on the spirited and fun track. Try this one. This one comes with a remix which tones down the chaos and makes for a mildly good listen. However, you're better off sticking to the original.
Kareena Kapoor's anticipated item number, Fevicol Se, is one of the favourites of the album, because the naughty and silly lyrics just win you over! Jalees Sherwani trades Zandu Balm for the glue Fevicol, that "Mere photo ko seene se yaar, chipkale saiyaan Fevicol se!" It's up there on my list of salacious lyrics that are actually witty while being enjoyable. While it sounds like a slightly improved Tinku Jiya, but the arrangements are fabulous and get you dancing immediately. It sounds like a complete throwback to the 90s with its twangy harmonium, and thumping backbeat. Mamta Sharma is in her element, and reliably she drawls with lascivious vigor with the very naughty verses. Her backing chorus of Wajid, Keerthi Sagathia, Shadaab Faridi, and Uvie complement her perfectly here with their shouts and small verses. The song comes with a remix, which is tolerable. It layers the club beats throughout instead of the orchestration and gets you dancing. It isn't necessary but if you needed faster beats, then this is your song!
One of the romantic songs is Saanson Ne, which is a bit syrupy sweet with Tulsi Kumar extremely high-pitched voice, and Sonu Nigam. Yet it's the lovely 90s style arrangements that save this track from being a complete miss. The sax solo of 'Tere Mast Mast Do Nain' and the shehnaii solos in the bridge won me over, despite its cheesiness. Sonu Nigam and Tulsi are very dependable but are let down by lyrics that seem even more cornball than usual. Skip this one.
Another favourite is Dabangg Reloaded, with the dependable Sukhwinder Singh who can always add such verve and rusticity to any theme or macho track like this. The song does open uncannily like Lagaan's 'Chale Chalo' with its thumping drums and trumpets that pepper the track. Singh sounds brilliant and brings the right amount of macho energy to this testotestorone track with his growls and grunts during the track. The chorus is the most hypnotic as it uses the 'Hud Hud Dabangg' lines against a catchy and loud melody. Sherwani's  lyrics are full of the patriotic and tough-guy phrases that cement this track as a further herogiri song. The song gets another unnecessary remix that reduces all that pomp and fun with placid and boring club beats. While it retains Singh's energetic voice, and the trumpets, it ends up way too fast and stripped of its fun.
Dabangg 2 is a fun album that features well-crafted songs that align themselves with the previous album. However, these similarities seem to overshadow Sajid-Wajid's originality in creating songs that complement the new film. In spite of this, Sajid and Wajid are on a roll, which means irrespective of reservations, they've created an album that's going to last after the film.