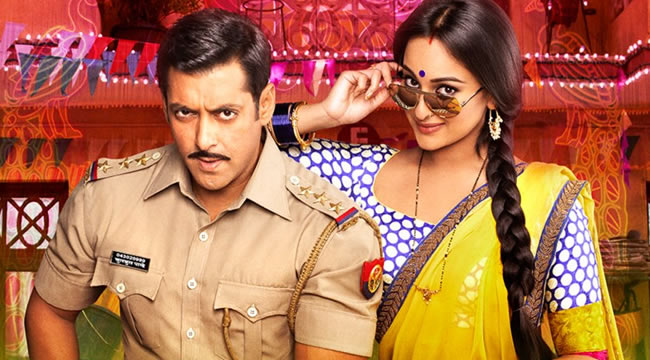 Dabangg, which released in 2010, saw phenomenal success at both the box office and the awards ceremonies. With six awards under its belt at the 56th Filmfare Awards, its sequel Dabangg 2 has some big boots to fill. Being released on the 21st of December 2012, Dabangg 2 has the audience very high with anticipation. Arbaaz Khan, the director of Dabangg 2 told The Times of India that 'he is happy that the film has created quite a buzz before its release'.
Furthermore, Arbaaz Khan makes clear to TOI that the film is not just comedy and action but there is also a lot of emotion- "There is a story running behind all the action. You just can't have action and more of action. None of it would hold if there is no emotion behind it; for that you need to have a story in a scene or a sequence".
Dabangg 2 will be bringing 'Chulbul Pandey' (Salman Khan) and 'Rajjo' (Sonakshi Sinha) back to the big screen. The main antagonist of the story is 'Prakash Raj'- the National Award winning Indian actor, Producer and Director.
Dabangg's musical score had caused a sensation. As of 10th September 2010- the release date of Dabanng, 'Munni Badnaam' was ranked number one and 'Tere Mast Do Nain' ranked number two in top10bollywood.com's chart. Dabanng 2 is definitely living up to its counterpart's musical reputation. As of 19th December 2012, a day away from its release, 'Fevicol Se' has already hit number one in top10bollywood.com's chart. Not only 'Fevicol Se' but 'Dagabaaz Re' and 'Pandeyjee Seeti' are in the top 10 too. 'Fevicol Se' is an item number featuring Kareena Kapoor.
Arbaaz Khan is optimistic about the sequel's musical charm and told TOI: "There are five songs in the movie and while the music of 'Dabangg' was outstanding, Sajid-Wajid have gone ahead and churned out something even better; I genuinely believe that. The composers have done a fabulous job."
Action, comedy and emotion… Dabanng 2 promises to live up to the expectation of 'Chulbul Pandey' fans as Arbaaz Khan claims to TOI: "You would see a lot of style coming along with the action and it would be in the kind of space that Chulbul Pandey as a character and 'Dabangg' as a brand stand for."