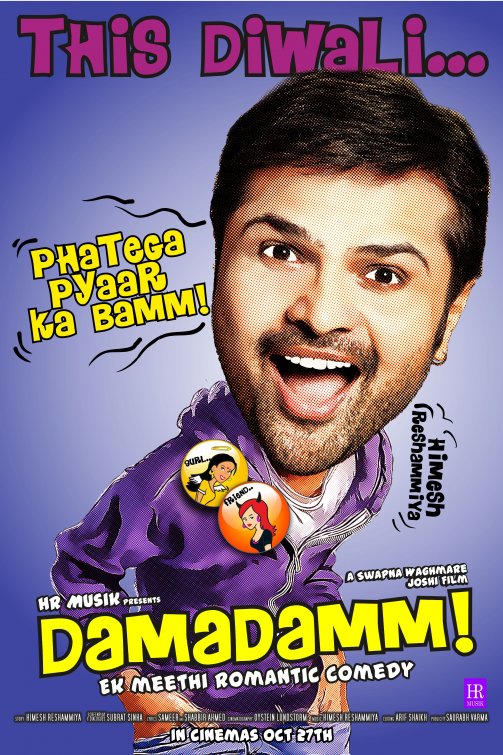 Himesh Reshammiya has a tendency to divide listeners into the love him or hate him camp with that distinctive voice of his – so if you already know you're not a big fan of Himesh and his characteristic nasal delivery, you might be wise to steer clear of the super-sized Damadamm soundtrack, since Himesh provides vocals for every one of the 15 tracks (9 originals, 5 remixes and a "promo video track") on the epic album.
Luckily, I love Himesh, and I even love him when he goes fully nasal, so 15 tracks? NO PROBLEM!
Opener Damadamm starts out like a traditional Sufi qawali… for about 2 seconds, until a deliciously addictive disco beat kicks in and the tune is transformed into an infectiously upbeat disco-qawali.  With a veritable truckload of vocalists: Punnu Brar, Palak Muchhal, Shabab Sabri, Alam Gir Khan, Sabina Shaikh, Himesh Reshammiya, Vineet Singh and Rubina Shaikh – all contributing, the song has a likeable, anthemic vibe centred around a familiar refrain: "Damadam Mast Kalandar!"; and enough variety in the lyrical delivery to keep it from getting too monotonous. On the downside,  it IS nearly 6 minutes long, and perhaps lacks enough innovation in the composition to keep it truly interesting after a certain point. There's also a Damadamm Remix, which just adds synths and boosts beats and isn't a huge improvement on what is already an enjoyable,  danceable track.
Umrao Jaan is a song that's already making waves. It's impossible to ignore Purbi Joshi's repeated refrain (in an exaggerated faux Far-Eastern accent) "No Touching, Only Seeing. No Kissing, Only Seeing" – and I'm really not a fan of gimmicky comedy songs (and this definitely is one). Himesh is also at his most nasal in this song (haters be warned) – but there's something about the bhangra disco beats and layered instrumentation in the track  that keeps me from switching it off…and in fact, keeps me coming back for more. I can forgive it the annoying gimmicky chorus, is what I'm saying. (It's been stuck in my head for days!)  The Umrao Jaan Remix adds electro effects into the mix and is probably the one I'll end up replaying because it's a little less grating.
The intense, romantic groove of Aaja Ve is up next. This track is given a pulsating, soft rock feel with sparing use of violin, guitar and hypnotic, heartbeat-like percussion, but the focus is really on Himesh's emotive vocals. His fans will love it; everyone else should give this one a shot – it's definitely one of the standouts of the album. The Aaja Ve Remix plays with the arrangement, boosting the dramatic dark rock feel of the track by increasing the violins and electric guitar in the mix, but throwing some extra beats in there for good luck.
Madhushala opens with Aditi Singh Sharma crooning seductive English lyrics of "Ishq Unplugged" (Damadamm's original title) before Himesh counters, the drums kick in and the track takes off . This is a really interesting song to listen to for what Himesh does with his vocal delivery – it's like he alternates his delivery, singing in two different, very distinct voices, with Aditi Singh Sharma's near ethereal contributions adding further contrast to this multi-layered track. The varied instrumentation and arrangement is a little bit classical and rustic, and maintains high energy throughout. If anything, the old school vibe is reminiscent of 'Isq Risk' from the recent Mere Brother Ki Dulhan soundtrack. A definite winner. One of my favourites on the album. It was obviously picked as a popular track because there are two remixes included: Madhushala Remix and Madhushala House Mix. Neither adds much to the song.
Yun Toh Mera Dil is a breezy, poppy love song that evokes summer and beaches and sunshine and just…happiness. Based around lazy strumming guitars and handclaps, the tone of Himesh's voice is pleasant and low for much of this song – making it a sweet, soothing, cute little song. When he emotes, his voice sounds like it's soaring, not straining, and definitely not nasal or grating. Some might think it cheesy, but I actually like the little chuckles  and "cuckoos" thrown in as flourishes. Sadhana Sargam makes a very brief appearance in the song, and echoes the "chuckle" flourish on her vocal delivery – it's really cute.
If you're a fan of love ballads like I am, then you'll probably enjoy Hum Tum. This is a gorgeously tender track, in which Himesh basically gives the people exactly what they expect. Himesh's delivery is restrained and soft, the melody is pretty, with luscious instrumentation and my favourite romantic soaring strings, and Vaishali Made adds a beautiful classical touch with her vocal contributions throughout the song.
Another gorgeous ballad follows in the form of Tere Bina, a showcase for Himesh's soulful vocals in an emotive and dynamic love song. Everything I said about Hum Tum holds true for this one, except this one is more plaintive in emotional tone – it's a classic ballad and it's done well.
I Need My Space has yet another style of vocal delivery from Himesh, who almost sounds like he's channelling Vishal (of Vishal-Shekhar) in his heavy rock growling in the opening of the song. It's a pretty standard rock song – grinding guitars, pounding drums, anthemic chorus. It"s not an especially original or new sounding song (and in fact, parts of it sound really familiar in a way I just can't pin down) – the novelty is in hearing Himesh tackle a song in a new (for him) genre with unexpected aggression.
I hate to admit it, but I am in LOVE with Mango – the love song that infamously compares a woman to a mango. It's come under fire for its incredibly simple lyrics (by Sameer) – "I miss you baby, like mango/ Tere intezar mein, na apples na tango, just mango". It might be my love of love songs, or it might be that say what you will about Himesh – he can write and arrange a good melody, and Mango certainly has a beautiful, deceptively simple arrangement that gets right under your skin. Aditi Singh Sharma's strong vocals contributions to the song are awesome too in that she sounds so different to elsewhere on the album. Forget ethereal – the woman is a powerhouse.
Final track on the album is "promo video track" Bhool Jaaun – and Sachin Gupta ( gets a turn at the vocals! Heavily atmospheric and rock-influenced, what makes this track stand out is the underlying beat and the fact that Sachin Gupta handles the lead vocals, with Himesh supporting.
Damadamm is a bit of a mixed bag – but it's actually quite nice to hear Himesh experimenting with his vocal delivery and branching out a little with genre. I can't help but think though that a little bit of variety in lead vocalists would make the album a bit more interesting to listen to as well. I love Himesh…but 15 tracks is a lot of Himesh.
Overall though Damadamm is a decent listen with mostly solid tracks, and a couple of stellar ones. Skip the remixes unless you're a super-fan.