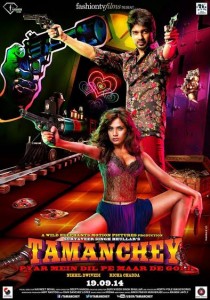 Now this is the reason why surprises are always welcome. In the middle of all the hype surrounding the music of some of the multi-crore biggies (some of which have impressed, and some which haven't), there is a dark horse in the form of Tamanchey which has scored a hat-trick in quick time. What seemed like a one off instance, courtesy the superbly done new version of 'Pyaar Mein Dil Pe Maar De Goli', has taken a full-fledged avtar, courtesy 'In Da Club' and now 'Dildaara' striking the right chord too.
Of course to begin with, all eyes were on the chartbuster song 'Pyaar Mein Dil Pe….' from Amitabh Bachchan's 'Mahaan', which created a first major impression when heard along with the well cut promo of Tamanchey. With young ones like Nikhil Dwivedi and Richa Chaddha in there, the quirky theme of the film – what with con, heist and thefts as the major ingredients – was well complimented by the song. Later, when the full fledged version of the song came out, what caught one's attention were the snippets from the film that went alongside, while keeping the proceedings engaging.
Just when one was settling down to the song, it was an innovatively done dance number 'In Da Club' that assured the kind of seriousness which the makers of Tamanchey carry when it comes to the music of the film. While it is infinitely better than some run-of-the-mill music videos that are done with no thought whatsoever in even trying to be any different, what strikes most is the kind of originality that the video carries.
Yes, the sound of 'In Da Club' is entirely in the popular zone and doesn't really go on an experimental route. However, it is the full-on-VFX music video that does the trick here, what with some naughty dance steps with Nikhil and Richa making it quite an eye candy.
Just when one thought that the music of Tamanchey was possibly going all fun-n-frolic route, the recent release of 'Dildaara' has only raised the curiosity further about what rest of the soundtrack (and of course the film) has to offer. Most of the times when Sonu Nigam steps into the scene, there is certain class factor that gets added to the music. It is no different in case of 'Dildaara' either, what with the singer making the romantic melody his own and singing it like only he can, while keeping the quintessential Bollywood quotient intact. In the process, it only gives its lead player a lovely-dovey number to cherish indeed.
So far, the start has been just right for Tamanchey, which has already gained some brownie points for its theatrical trailer too. Now one waits to see the kind of attention it fetches from the audience on its October release.