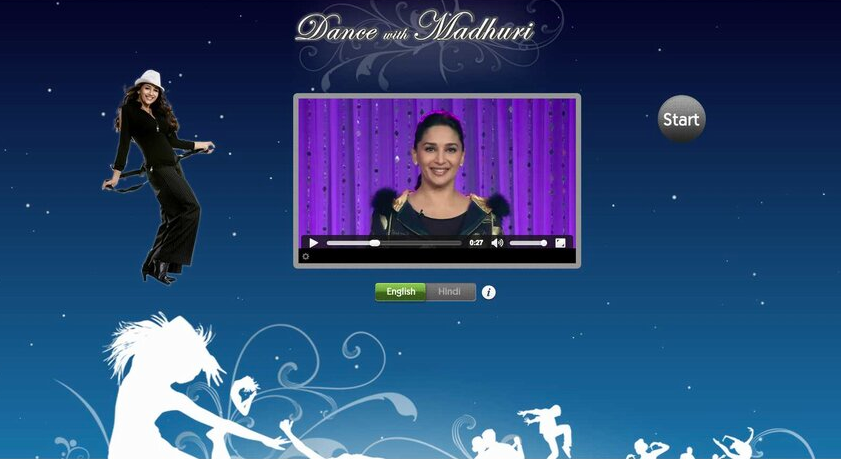 The dancing diva of Bollywood, none other than the living legend Madhuri Dixit-Nene herself, has now made her graceful dancing available to dance fanatics the world over! Mrs Dixit-Nene has started an online dancing academy where anyone can learn how to dance like the dancing queen!
The online dancing academy titled 'Dance with Madhuri'. On the site she will be giving dance lessons and for her first two sessions she has chosen two of her popular songs 'Maye Ni Maye' from Hum Aapke Hai Koun! and 'Ek Do Teen' from Tehzaab. Also included in the future will be some of Madhuri's favourite choreographers to teach lessons as well. The online academy will have levels that progress as you do and you can even save your progress and come back to it!
What made Madhuri want to set up an online dancing academy? "It is the passion towards dancing that got me into this. I love dancing. I have been dancing since I was three-year-old. I want to take the passion of dancing to every household, make people dance and enjoy dancing. Also my fans have loved me, my dancing, lot of people told me they wished they could learn dance from me. So I felt this was the good opportunity to give back all the love and affection that I have got from people. I want to make people dance and I want them to enjoy it. This venture is one of its kind. There is no dance academy that is online. We are blind…we don't know how people will react, what response we will get. Also it can be a medium to find new talent. We want to bring different dance forms be it classical, western or Bollywood style under one roof," states Madhuri.
What does she think is particularly special about the academy? "I think if you have bricks and walls you teach dance to 200-300 people but this way (online) you can reach out to maximum number of people and they can hop on to it at their leisure, pace. They can learn dance whenever they want."
So what got the dancing legend into dancing in the first place? Madhuri explains, "My sister used to learn dancing… I used to stand behind her and imitate her. The sir over there told my sister if I am keen to learn dancing then why not send me too here. That is how the journey started. Dance has been always close to my heart."
Her best experience in dancing? "I got to work with wonderful choreographers like Saroj Khan, Prabhu Deva, Chinni Prakash, Kamal master, from whom I learned so much and also my guruji Birju Maharaj and Vasant Rao Gadhge. It has been a wonderful journey. I love dancing. It is very spiritual experience for me," adds Ms Dixit.
You can check and dance with Madhuri here!
We think this will be a sure fire hit and can't wait to try it out! Keep on checking out BollySpice for more info on all your favourite celebs!