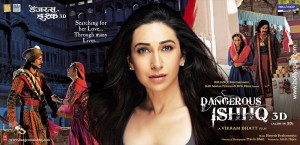 With the platform already set by producer Vikram Bhatt's Haunted 3D in 2011, it looked easy for Karishma Kapoor, who planned her comeback to Hindi cinema after a long hiatus of nine years, to make her return an impressive one. However, Lolo's fans are going to be everything but entertained in her reincarnation attempt in the world of Bollywood with BVG Films and Dar Motion Pictures' Dangerous Ishhq. Seemingly, the fact that this movie stars Karishma who was a hit in the late 90s and the early 2000's has been taken for granted by the film maker who has turned a blind eye towards the story line.
Produced by Arun Rangachari and directed by Vikram Bhatt, Dangerous Ishhq is a woman centric story (second in a row after Vikram Bhatt's Hate Story) where the protagonist dies several times during the course of the movie in a bid to get united with her lover.
Sanjana Saxena (Karisma Kapur) is a supermodel and she and her beau Rohan Thakral (Rajneesh Duggal) who is a scion of a wealthy business family are the talk of the town. They get engaged and are soon to be married. All is well, until Rohan gets kidnapped and then Sanjana's world is torn apart.
When she witnesses some of her moments in her past life with Rohan, she realizes that the only way she can save her boyfriend is by unraveling the facts of her past life and hence opts for past life regression. ACP Bhargav Singh (Jimmy Shergill) is assigned the task of finding Rohan Thakral and has to depend on Sanjana's instincts to save Rohan. Sanjana doesn't waste time in going to the therapist and attends a series of past life regression sessions and travels across three life times as Geeta, Salma and Paro. Conveniently, poor Rohan gets is either seized or slain in her every birth by her other obsessive lover and Sanjana realizes that her current birth is her last chance to rewrite her fate. What follows in the movie is the time travel phenomena of Sanjana Saxena over a period of five long centuries.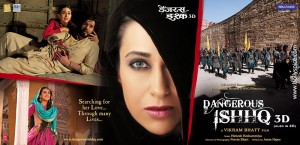 Can Sanjana save Rohan?
What exactly happened in her past lives that are so connected with Rohan's abduction?
The movie goes on to answer these questions.
Kudos to Vikram Bhatt for simplifying such a complex concept like past life regression with the right clarity. The transition between the past and the current lives were done smoothly and without wasting anytime. The movie contains an element of suspense at regular intervals which keeps the viewer's hooked on to it. Though, Bhatt has proved that he definitely has a good grasp over the subject of regression, the biggest loop hole in the overall product is the way the story was woven by Amin Hajee where the antagonist takes not one or two but five hundred years to know how to succeed. The movie's central idea about how past life regression is never persuasively carried.
Lolo has put her best and has earnestly worked in trying to make a perfect comeback. It is a pleasure to watch her context switch between different roles in different eras with such ease. Rajneesh Duggal does a decent job, though he maintained the same expression for most of the time in the movie. Jimmy Shergill does well with his immaculate act. Divya Dutta and Ravi Kisan, as usual are show stealers but have limited scope. Ruslaan Mumtaaz looks totally out of place and Aarya Babbar and Gracy Singh do their part well.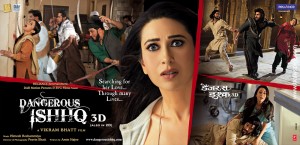 Dangerous Ishhq is Vikram Bhatt's second attempt at past life regression after a film titled Phirr, which was based on the same concept. However, this time around, Bhatt has a solid command over the subject and does not leave any ambiguity or loop holes in the topic of past life regression. Himesh Reshammiya's music in this movie has no likely hood of becoming a smash hit and the background score by Raju Singh does not support the movie well. Dialogues by Girish Dhamija are perhaps the most disappointing in this film. Praveen Bhatt's cinematography is remarkable at places albeit the fact that the movie abuses the third dimension completely. The 3D quality being very low at some places has dented the overall charm of the movie. Kuldip Mehan's editing is decent.
Overall, Dangerous Ishhq is a good act by Karisma Kapoor with good direction and some intelligent editing. Aspiring but seriously blemished, it fails to live up to its hype due to the poor story, impact less dialogues and music.