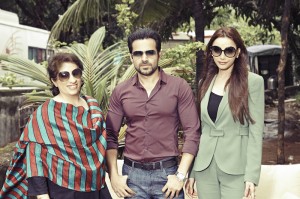 From a script going on the back burner to one of the biggest festivals in the world. From a project being shelved to the red carpet at Toronto. Danis Tanovic's Tigers has sure roared a long way and giving wings to its flight is the grit and determination of two feisty Indian producers- Prashita Chaudhary and Guneet Monga. The Oscar-winning director's much-awaited film with Emraan Hashmi in the lead will have its World Premiere on 8th September at the prestigious Toronto International Film Festival but there were chances that the film wouldn't have gotten made in the first place.
Based on a true story, the hard-hitting thriller drama revolves around the story of a salesman Ayan, played by Emraan, who after a lot of struggle secures a job with a prestigious multinational corporation marketing infant formula milk, the artificial substitute for breast milk. When he finds out about the damage the formula milk is doing to babies, he goes up against the corporation.
"Tigers almost never got made," recounts a source close to the film. "Financing films is a risky business abroad and every production takes insurance against the possibility of legal challenges. While the original producers had plenty of experience in backing up every detail of the screenplay with facts, their insurers wouldn't cover Tigers. Not because it wasn't true, but because the corporations at the heart of the story had such deep pockets that the risk of their attempting to block the film – and the cost of defending any such actions in court – was considered too high. Without insurance, the producers wouldn't take that risk and just weeks before filming was due to begin in early 2007, the production was shut down."
Producers Prashita Chaudhary of Cinemorphic and Guneet Monga of Sikhya Entertainment then stepped in to revive Tigers and tell the story to the world. Says Danis: "Tigers is a project that I have been nurturing for many years. We started research on the film way back in 2006 and despite the challenges we never gave up. I believed that this story needed to be told and I'm very glad that in Emraan, Prashita and Guneet, I found partners who share the same thought and emotion."
Says Prashita Chaudhary, who is not just the producer but has also funded the film, "The story of Tigers needed to be taken to the world not just because its a true story but also one that every mother needs to know. It never deterred us that some of the earlier producers had backed out in fear of the big multinational corporations. If this film couldn't be made, how could any true story about a rich corporation ever be told? It was important that Tigers got made and I'm happy that we were able to help Danis realise his dream."
Adds Guneet Monga, who has taken care of all creative and production requirements: "Making Tigers was an arduous journey but we could not let this go. It came to us at a critical juncture and we worked very hard to put together a team that Danis wanted. I'd like to thank him for his trust in us and Emraan for taking on this challenging yet extremely important role. The story is extraordinary and I'm elated that our collective effort is bearing fruit and that Tigers is now ready to travel the world."
Tigers would see a very different Emraan Hashmi and the Bollywood superstar is well aware of it. "I am extremely happy that I could do this high concept film with a very strong connect to the larger world audience. Working with someone like Danis on my first international venture has been very exciting and now I have my fingers crossed on how the film will be received."
Tigers will soon release in Indian theatres and worldwide.