More than 150 people gathered at the Dream Downtown Hotel during the weekend to glean "insider" information about directing, producing, writing, and financing Bollywood films from A-list Indian filmmakers Imtiaz Ali, Zoya Akhtar, and screenwriter Anuraadha Tewari. Presented by Dar Motion Pictures (a division of DAR Media Pvt. Ltd.) and Mumbai and New York based Molecule Communications and supported by Vikram Chatwal the two-day educational conference titled Ticket2Bollywood was themed Bollywood: Beyond the Song and Dance. The event provided a platform for aspiring and established actors, directors, and producers to learn how they could potentially break into Bollywood.
"So many Bollywood directors are choosing to shoot their films abroad, whether in New York or other major cities around the world," says Kiren Shrivastav, Director and CEO of Molecule Communications. "These filmmakers are always looking for local talent, production crews, writers, directors, and music composers to give their films an international flare and perspective. Bollywood has truly gone global, and the main agenda for this conference is to make the non indians aware about how much the Indian film industry impacts the world's economy."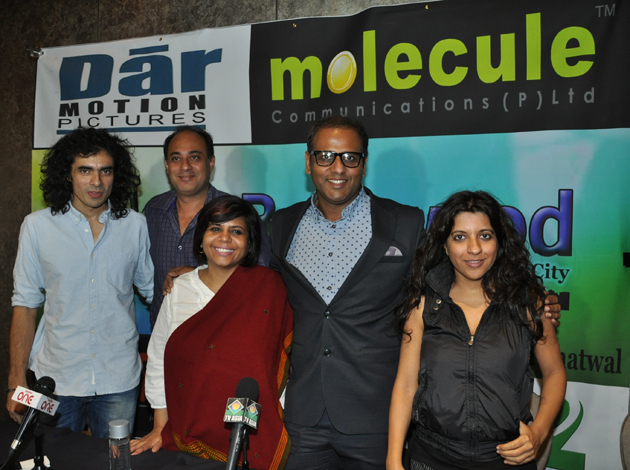 The roster of powerhouse Bollywood "household" names at the conference included:
• Imtiaz Ali: Nominated for Best Director for recent super hit Rockstar (Ranbir Kapoor) and 2007's Jab We Met (Shahid Kapur & Kareena Kapoor). Ali also directed Love Aaj Kal and Socha Na Tha. Most recently, Ali wrote the script for Cocktail (Saif Ali Khan, Deepika Padukone).
• Zoya Akhtar: FilmFare Award for Best Director for Zindagi Na Milegi Dobara (Hrithik Roshan, Farhan Akhtar, Katrina Kaif). Also directed Luck by Chance (Konkana Sen Sharma) and writer of soon-to-be-released Taalash (Aamir Khan, Rani Mukherjee, and Kareena Kapoor).
• Anuraadha Tewari: Gold Medalist for Direction from Jamia Millia Islamia, New Delhi, and script writer of Fashion, Jail, and Heroine.
Local New York talent who participated in the conference included: music composer Wayne Sharpe, DJ Rekha, Vikram Chatwal, Nandana Sen, and Melanie Kannokada, just to name a few.
Commenting on the event and the association with Molecule, Shahnaab Alam, Commissioning Producer, DAR Motion Pictures, said; "At DAR, right from our inception, we have been a firm believer in the globalization of Indian content and are
confident that events such as Ticket2Bollywood will most definitely go a long way in enhancing awareness about Indian cinema and its nuances amongst both Diaspora and non-Diaspora audiences.
"DAR MOTION PICTURES has always endeavored to move forward with high quality content in cinema and has encouraged new thoughts. All the speakers in the very first edition of Ticket2Bollywood are the ones who have established their own
language of cinema very successfully. It is heartening to see these new industry leaders sharing their thoughts, which define the contemporary Indian cinema," Shahnaab added
For more information about this event, please visit www.ticket2bollywood.co or www.molecule.co.in.