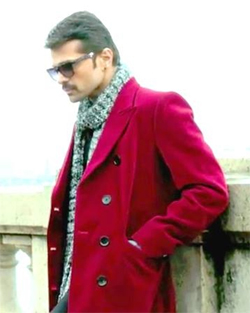 Dard Dilo Ke Kam Ho Jaate, Main Aur Tum Agar Hum Ho Jaate… this is definitely the most popular song of the season. Not only is it being loved by music lovers all over the world, but the song has become a rage on popular social media sites for upcoming singers who are trying to showcase their talent. On one such website alone, once you type in the song name, you also get to see many covers of the song – be it singing or played on a piano or strummed on a guitar, you will find it there. Needless to say, this shows us all, just how music maestro Himesh Reshammiya can keep giving us such beautiful melodious songs even in today's time. (As unfortunately these days, we have often seen melody take a backseat and a more 'abstract' sound of music make its prescence felt in Bollywood).
Dard Dilo Ke song has been beautifully picturised on Himesh and upcoming actress Zoya Afroz. The song has been shot in Paris. It is currently riding high on most charts and has been sung by singer Mohammad Irfan with lyrics by Sameer Anjaan. Also one must note, this is the first time another singer is singing for Himesh (the actor). There is also a reprise version of the song which has additional vocals by Neeti Mohan.
Check out both versions below and if you sing/play an instrument, why not have a go yourself at rendering this beautiful soul touching number by the musical genius Himesh Reshammiya.
Dard Dilo Ke (Original Promo):

www.youtube.com/watch?v=CExS4CBufng
Dard Dilo Ke (Reprise Promo):

www.youtube.com/watch?v=NbhHEM2fcIY
The Xpose releases across India & Pakistan on 16th May 2014.
In association with: www.himesh-reshammiya.com