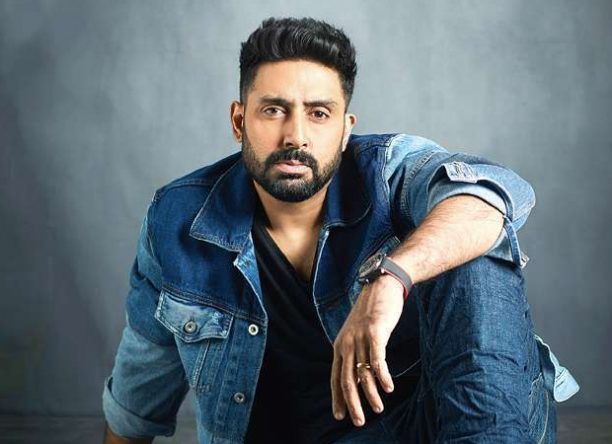 Abhishek Bachchan is undoubtedly on a roll with unique films and taking on complex roles. He has been portraying some incredible characters in projects like Bob Biswas, Breathe: Into the Shadows, and The Big Bull. Continuing his quest for exciting new projects and characters that challenge him, he took on the comedy with a social message, Dasvi. The film, which is currently streaming on Netflix and Jio Cinema, directed by newcomer Tushar Jalota also features Yami Gautam and Nimrat Kaur in pivotal roles.
In Dasvi, Abhishek has transformed into a brash politician, Ganga Ram Chaudhary, who is implicated in a scam and sent to jail. While he is there, he decides to study and pass his 10th-grade exams. But of course, there is so much more to the story, but you need to see and experience this great film for yourself.
However, we will set the scene with the trailer:

Abhishek Bachchan kindly took time out of his very busy schedule on a ride from one event to another to talk with Stacey about Dasvi. In a fabulous interview, the actor touched on why he choose the film, his work with the director and co-stars, and why he feels Dasvi is so special. Plus so much more!
You have performed some incredible characters in your latest projects like Bob Biswas, Breathe: Into the Shadows, and The Big Bull, so what draws you to say yes to a film and character? 
It is the same reason it has always been. Is it a story you want to be a part of telling? And more importantly, it is this kind of story that, once made into a film, is this one you want to watch. That has always been the only criteria. That thankfully still holds true.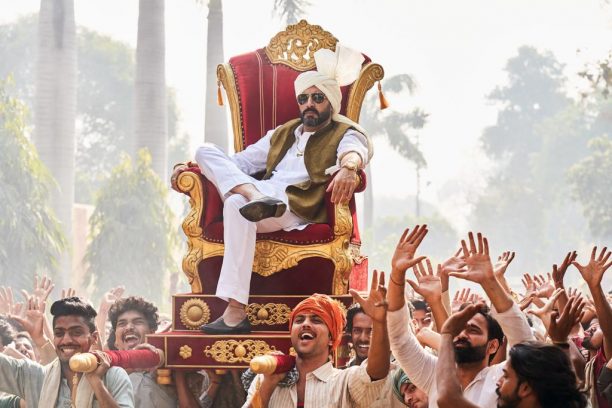 What was it specifically about Dasvi that made it a film you would want to see and especially to play the character Ganga Ram Chaudhary?
 The story is about a chief minister who gets jailed and decides he is going to clear his 10th-grade exams, which he hasn't done till date. That premise in itself seemed very exciting and unique to me. To add to this, the character of Ganga Ram Chaduary was so wonderful. He is brash, he is brazen, and he is overconfident. I just loved that someone with this kind of gait and this kind of attitude has to know go and appear for his 10th grade. I just loved the conflict that goes on inside of him. 
Tell us about getting into this character and becoming him.
There was extensive prep work that we had to do. There were a lot of workshops we had before going on set. I have spoken a different dialect of Hindi, which is called the Haryanvi accent. Haryana is a state in Northern India. The men from Haryana are very distinct in their attitudes and in the way they speak. That is something that we had to learn. I worked with a dialog coach for about 6-8 weeks daily to achieve that. That was coupled with a whole lot of reading with my director. Thankfully my director, Tushar, is very particular and was very clear in his mind, as a director, exactly what he wanted. That makes it so much easier. It wasn't a process of discovery; it was more a process of just executing his vision.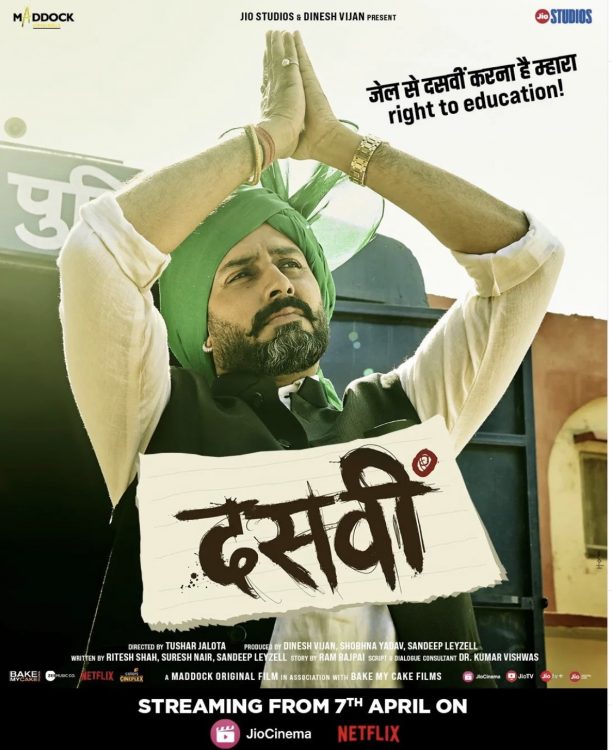 When we have talked before, you said the biggest obstacle is taking the words from the page and making them your own to make that character come alive, did having to add in the accent make it more difficult?
Yes, it is very difficult. I struggle with accents. My thinking is if it is a new language, you get to learn it from scratch, so it is all right. But with an accent, you have to train your mouth and your tongue to move in a different way than it is used to. So words you have been speaking all your life in a particular way, you have to learn to pronounce it in a different manner. That is always challenging because instinctively, you want to communicate the way you are used to communicating, and now you have to adjust that slightly. So it makes it very challenging.
So, getting completely lost in the character with having to do your lines with this accent, it must have added an extra layer. Would you say that to be true?
Yes.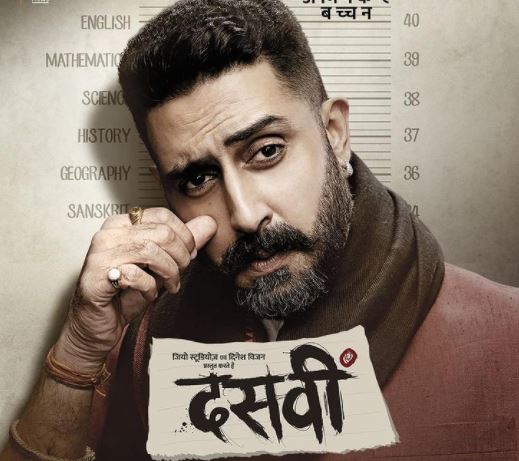 Dasvi is a comedy with a social message. Was it a difficult line to walk with not going too broad with the comedy but not too deep with the social message? 
No, no, thankfully. In comedy, as we do, naturally, we rely entirely on the written material. The material was wonderful. It is very finely written. I think it was a perfect balance. 
Tell us about working with the director Tushar Jalota, especially since he is a new director.
Wonderful. Wonderful. I am enjoying this phase in my career where I am working with predominately younger and newer directors. It is great to feed off their energy. They have such a unique perspective on life and filmmaking. They have very unique voices in their craft. I really enjoy it. I think it reinvigorates you. It just shows you a whole new world out there.  

What do you think he has brought out in you as an actor?
I think what was really nice, since we had done such extensive prep, was that, more than anything else, he just instilled oodles of confidence in me to be able to carry off this character. You know, you are always going to be second-guessing yourself. What Tushar did, I think, in abundance, was that he infused a lot of confidence that 'you can do it'. He really held my hand through the whole thing. I am really thankful to him for that.   
You wrote on Instagram that you are excited to share Dasvi with everyone and that you really believe in the film. What do you think makes it so special?
You know, I don't know if I can really pinpoint that. I just really liked it. I was really proud of Tushar. Very proud of the film. We all worked tremendously hard. So in that post, I just wanted to put that positive energy out there and hope it manifests itself.  
This is having its release on Netflix and Jio Cinema; what're your thoughts about it reaching an audience the world over?
I think it is very exciting! I have a lot of friends who are not Indian and who live abroad. They are very excited to see it! Digitals platforms allow them to get to access my work easier. I am so happy that a wider audience is going to get to enjoy the film.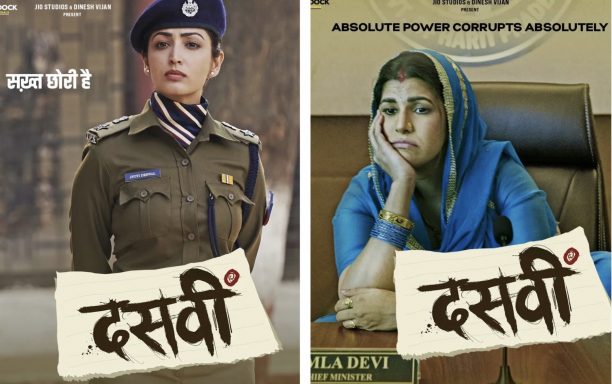 You also had two fabulous co-stars, Yami Gautam and Nimrat Kaur, tell us about working with them.
It was brilliant, brilliant, brilliant. I was very lucky to get the opportunity to collaborate with them. I think I have come out of the entire experience a richer actor in terms of what I have learned of my craft. They were such wonderful people to collaborate with. Truly. Both are very major team players. It was just wonderful to work with them. They are brilliant in the film. Although I do understand that the film is headlined by me and it is about my character, they are the two surprise packages. 
So how do you work with another actor within a scene or film?  
It is really by observation and feeding off their talent and energy. 
Do you get nervous before you start a new film?
Of course!
Then what about before release? 
I don't know any actor who doesn't. So yes, your labor of love is up for judgment. I do get very, very nervous. 
The audience reaction since the first look has been so positive; how did that feel to you?
Well, I think that is always encouraging, right, because if these first visuals of your film are met with a positive response, it is somewhere an endorsement that maybe you are going down the right path. You are doing something right.  
Do you like to watch your performances?
See, an actor will always say no (you can hear his smile) because you already have found a different way you could have done a particular scene. I am no different to that.  
How do you think you have grown as an actor over your career?
Ooh, (pause) it would be very difficult for me to answer that. But, I like to believe I am learning from film to film. I am always trying to approve on my skill set. I think that is part of the quest of being an actor that you use every experience to better yourself. 
Did you learn anything about yourself while making this film?
I don't know. I couldn't say, actually. But, perhaps that, maybe yes, now I have the confidence that I could pull off something like this.  
What still drives you to act?
Just to tell new stories and to be part of stuff that is going to be memorable. 
You recently posted for Mr. Ajay Devgn's birthday and talked about your first film as production boy, what would he say about your career now.
I hope he is proud. He is very, very special to me. He is a mentor to me and like an elder brother. I really hope he is proud. Occasionally when he does manage to get the time to see any of my work, if he likes it, he will call me. I hope he manages to see Dasvi, and I hope I get that call saying well done. His opinion matters a lot to me. I cherish his opinion.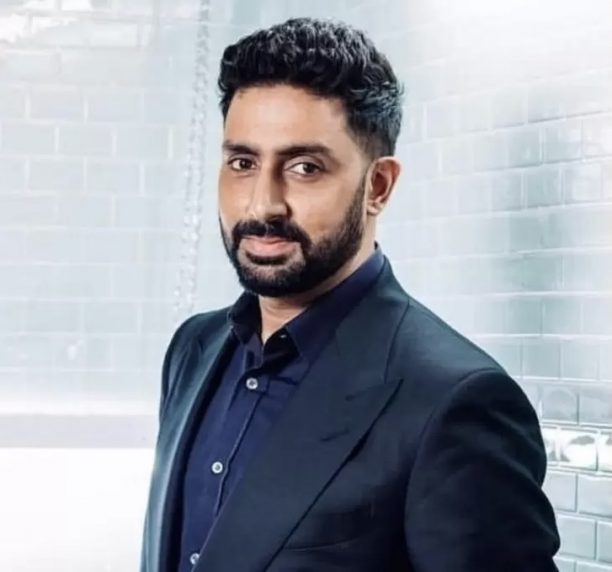 Can you tell us about the projects you have coming up?
Yes, I have a film that I have produced and acted in called SSS-7. It is in post-production now. It is a very unique film. It is a passion project I have done. I am the only actor in the film. It is a very unique story. I am very excited about that! It should be ready for release in a couple of months. I am just about to complete another film, which I shot with R. Balki, who I made this movie Paa with. That is a movie called Ghoomer, which is almost done; there are about three or four days of work left. Then I go back to resume to complete the shoot of my web series Breathe: Into the Shadows next season. So those are the three I have next.  
With a 'Thank you' and an 'it was a pleasure to talk with you', he was off to another event. I would like to thank Mr. Bachchan for taking the time and for the great answers. 
Be sure to watch Dasvi, which is streaming on Netflix and Jio Cinema now.