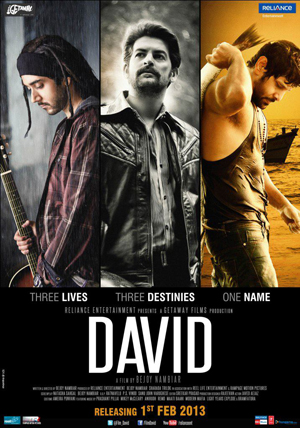 Bejoy Nambiar's Shaitan is a perennial favourite album of mine, his latest film David, a Tamil and Hindi bilingual features the music from a whopping 8 composers. Shaitan collaborators Prashant Pillai, and Mikey McCleary, along with Bramafatura, Maatibaani, Remo Fernandes, Modern Mafia, Anirudh Ravichander, and Saurabh Roy contribute to the wildly eclectic and amazing album that surprises with its innovation and addictiveness. David spans three decades, with three different Davids played by Neil Nitin Mukesh, Vinay Virmani, and Vikram dealing with their trials and tribulations. It's an album that works on a conceptual level as well as complementing the narrative of this interesting film. It also happens to be on my most played this week!
We start with Bramafatura's fantastic track, Ghum Huye (The Theme of David), which is an interesting atmospheric track that hooks you in with its trance beats. Mark Fulgado and Gaurav Godkhindi are the duo behind Bramafatura, who team up with singer Siddharth Basrur. What a track though, it's a treat for the ears and sweeps you up with the spaced out lounge style. Basrur's gritty vocals complement the eloquent lyrics, which outline the yearning and loss of each David. The track is thoroughly enjoyable and sweeps you away with its haunting melody.
Mickey McCleary made waves with his eclectic remixes in The Bartender album and Khoya Khoya Chand, which was utilized so brilliantly in Shaitan. His latest is a quirky twist on Dam Mast Kalandar, which opens with Rekha Bharadwaj's rustic voice and a ukulele hook. The essential melody of the famous song remains the same, but McCleary updates it with more of reggae classical fusion. The recent promos of the song do not do it justice, in its entirety there's so much to enjoy from Bharadwaj's effortless vocals to the harmonium and dholak chorus. The perfect arrangements and powerful sound make you almost swoon! We get the Rock Version of this track, which appeals to the headbanger in me, with its riff heavy that open the track. It may sound a bit shocking to some but McCleary teams up with Gaurav Godkhindi, and make this such an energetic track with its jagged and gritty guitar riffs. The Bharadwaj's vocals are more spaced out here,  allowing you to appreciate the arrangements more and revel in your inner rocker. It's hard to choose between the two, since they both have their own charms, so you're spoilt for choice!
Next up is the Maatibaani track, Tore Matware Naina, which is an ingenious melange of French and classical influences. Maatibaani is a world music band who mesh classical, folk, and new-age styles into a wonderful confluence here. Joyshanti's opening French verses are so much fun, especially alongside Nirali Karthik's amazing alaaps, this is experimentation at its finest. It sounds like a fun jam session that works so well with the great jugalbandi between Joyshanti and Karthik's varying styles. The track is based on the nighttime Raga Bhageshri, which is emotional song of a gopi waiting for the reunion of her lover Krishna. The excellent flute and funky guitar keep this track danceable and so layered. Keep this on repeat.
Remo Fernandes belts out the Goan festival song, Maria Pitache, which seems perfect the Goan segment with Vikram. The song has an amusing story of Maria's father, a cheater who promises the protagonist Maria's hand, but as soon as a richer man comes along, he goes back on his word. It's an extremely enjoyable song, because of Fernandes' investment in making it sound so fresh and improvisatory. The spirited guitar melody is complemented with the flutes, and conga sound, and keeps the chorus joyous and inventive. The Hindi and Konkani lyrics are tons of fun, and keep the carefree spirit throughout. It's so wonderful to hear Fernandes after so long (for me atleast!) he has such a peppy voice and is in complete control of the song as it gets louder around him.
Prashant Pillai takes over with Tere Mere Pyar Ki, which is a lilting romantic track that impresses with its minimalism. Aided with simple melody of the guitar, piano, the snap sound, and the soothing whistling sounds, it makes this ordinary track into a dreamy tune. The lyrics by Gopal Dutt are suitably romantic and eloquent as well, with Naresh Iyer and Shweta Pandit conveying that tentative feeling of being in love. A simple track just works for the mood it conjures up.
Opening with a burp, you know you're in for a punky trip with Modern Mafia's Bandhay. Modern Mafia is a punk rock quartet from Mumbai, who immediately get you into rebellious mood, and you may just find yourself jumping up and down. The simple 'Lalala' chorus is catchy, and the opening riffs and intense drum kicks give it that riotous and frenetic sound. The lyrics by Ankur Tewari are fun and quirky about the protagonist's journey. Keep this one on repeat when you need blow off some steam!
Next is Anirudh Ravichander's (Why this Kolaveri fame) Yun Hi Re, which opens with gorgeous orchestration and soulful guitar melody. This is a standout track for its symphonic orchestration alone, and the superb handling of the various interludes, from the classical sitar section midway to the sweeping violin endings. It just works so beautifully, and it makes you swoon hard with Anirudh and Shweta Mohan's yearning vocals. The instrumental interludes throughout make this a track worth savouring, since there is so much to treasure. This romantic duet is at the perfect pitch and trumps Tere Mere Pyar Ki for capturing that heady feeling of being in love.
Prashant Pillai and Tao Issaro handle the thumping Rab Di Marzi, which is an amazing mix of the naqqareh drums, electric guitars, and congas into a brilliant cacophony of overlapping sounds. It may get a bit too loud for some by the end, but it works fantastically with Karthik's impassioned vocals. It reminds you of Chaiyya Chaiyya if that one decided to simply rely on the drums, it's an intoxicating song that sends the listener into a trance by the end with the improvisations. Give this one a try. We also get the Rab Di (Rab Step Version) with Dub Sharma at the helm, which cools down the drums but turns it into a crazy dubstep track. Again, the dubstep here is just brilliant and makes it a challenging and interesting tune to enjoy. It can get a bit jumbled at times, but that's all part of the charm of dubstep. You either love it or hate it, but give this one a listen and choose your pick!
Next up is Mikey McCleary's Out of Control, which is an interesting indie rock track with Hinglish lyrics that thankfully don't sound too awkward or clunky. Nikhil D'Souza does his best Matt Bellamy by way of Thom Yorke impression, and sounds quite good with his English vocals. Preeti Pillai complements him perfectly with her classical voice during the bridge, and their jugalbandi is so raw and perfect. The arrangements are polished and when the orchestration breaks in, it just gets better. The track is very moody and the lyrics convey that helplessness and heartbreak of the Davids. It almost makes you want more and an extra album would help too! We also get Out of Control (Choir Version) sung by Marianne and Tara Sitaria is very serene and original. It also enhances its Radiohead quality, and makes it that much more haunting.
One of the gems is Prashant Pillai's Ya Hussain, with ever-reliable Lucky Ali who sounds so different and impassioned here. The lyrics by Turaz are hypnotizing, only heightened by the clapping and chanting by the chorus and the pulsating drums in the back. It has such a haunting quality to it, especially utilizing Ali's voice in such a fascinating and frenetic way. The song left me speechless, it feels like a bit of a head trip if played at full blast!
Saurabh Roy is the lead singer of the garage band The Lightyears Explode, ropes in his drummer Aaron Carvalho for the rollicking, Three Kills. It is such an awesome track, because the lyrics are innovative and the relentless garage riffs are meant for headbanging and dancing! The bridge features so many interesting tonal shifts from the punky hook to the punchy drum solo. It is another rock gem on this eclectic album.
Lastly is Remo Fernades' Light House Symphony, a lovely instrumental track that features some melodious from Fernandes throughout. The frenetic tone throughout is maintained with the melodious acoustic guitar and whistling. It has such a lovely Goan style that gives way to an extended jam session with Fernandes scatting through the middle section. The song is so much fun in these sections because Fernandes is clearly enjoying himself and bringing some authenticity to the album.
After an astonishing 15 tracks by 8 different composers, and 11 lyricists, David is one of the most versatile albums of the year. Every single song has its strengths and while some may be a bit too 'out there' for some, it's this spirit of rebelliousness and innovation that seems to characterize a Bejoy Nambiar film. The album is truly one of the best albums of the year.