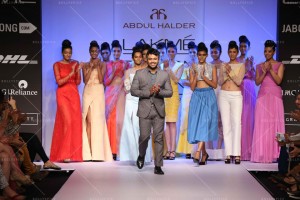 It was classic styling at its best when Abdul Halder unveiled his Avant-Gardé creations at Lakmé Fashion Week Summer/Resort 2014.
Keeping the seasonal trends' forecast in mind, Abdul conjured up modern elegant silhouettes for formal wear. Fabrics that made an impact on the ramp were viscose satin, tulle and flat chiffon in a variety of medium to party shades. Aimed at dressing up the powerful independent women, the elegantly designed garments had the exquisite Abdul Halder touches giving the outfits that sensual and sexy look to add drama to the collection.
Sari gowns in deep blue, embroidered tulle maxis with mini inners, paper bag skirt/choli, off-shoulder blue net midi and yellow long sleeved embellished sheath were scintillating options. The two tulle saris had bright petticoats and cholis – sun yellow and post-box red -to turn this traditional drape into a modern offering. The final red lace maxi was a ravishing end to a glamorous line of elegant women's wear.
Making a stylish contemporary fashion statement will be ultra-easy for the connoisseurs of style with Abdul Halder's formal wear options for the next season.