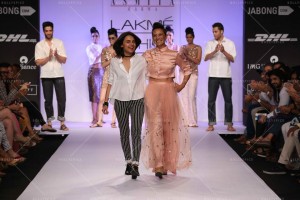 She called her collection "Sensaina Tsuyo" inspired by the flower of the same name. Asmita Marwa's creations at Lakmé Fashion Week Summer/Resort 2014 were homage to women who stand proud with values and delicate strength.
To recreate this inspiration on the ramp, Asmita selected a mélange of checks and weaves that appeared from vintage dyeing techniques. The fabulous Chanderi, Banaras and Khadi were dreamt up in visions of kimono-like boxy but flowing silhouettes. Colours ranged from soft pastels to earthy tones while the textures livened up the creations.
Opening the show with a brown checked Chanderi shimmer palazzo and brown batik kimono wrap top, Asmita offered relaxed lounging during holidays.
Striking entries were the off-white khadi kimono cropped top with back slit, ecru long kurta shirt, white balloon skirt with shimmer sun and baby pink net jumbled sequins dress.
Giving a truly creative twist to embellishments, Asmita used pins and washers to decorate the garments and a large silver sun motif as one of the focal décors of the collection.
Presenting four men's wear entries Asmita ensured that they followed the resort wear theme. Jersey samurai pants were worn with Chanderi dip dyed shirts and voile short sleeved kurtas were teamed with black denims.
Asmita's choice of showstopper was the India's top hairstylist, the very perky and effervescent Adhuna Akhtar who jauntily walked down the ramp in salmon pink net palazzo with pin detailing and satin silk cropped shirt.
The collection by Asmita Marwa was aimed at the powerful woman who can hold her own anywhere in the world just like the stately and awesome "Sensaina Tsuyo" flower.