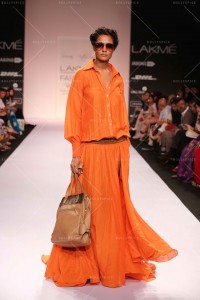 Known for over two decades as the pioneer of lingerie in India, Suman Nathwani's debut collection called "Garden of Eden" comprising resort wear at Lakmé Fashion Week Summer/Resort 2014 was a scintillating line. Here was a collection that spelt freshness with surface texturing and tone-on-tone embellishments, layering and delicate engineered structuring.
Opening the show with an ivory one-shoulder front slit swimsuit, the mood was set for "fun on the beach" creations. An organza summer trench coat, bat sleeve sheath, tangerine long dress with front slit and layered georgette short baby doll dress were great additions. Resort wear took a slight formal turn with an ombré electric blue gown and ended with a swirling midnight blue floor sweeping tent.
Bringing forth super luxe resort ensembles from the eras of luxury at destinations like St. Tropez and St. Bratz, Suman created a more adventurous high street-cum-high-luxury line.
To add that sensuous touch, sexy fabrics like chiffon, muslin, tulle, Carmeuse and silk jersey were presented in rainbow hues of deep tangerine, electric blue, Sorbet colours and nudes. Palazzos, shirt dresses and deconstructed floor sweeping gowns sailed down the ramp. For more holiday attire it was bikinis and outer wear along with the trendy international kurti that revealed the fun aspect of the collection.
When a lady wants to put together a complete holiday wardrobe and turn into a fashionable Eve, Suman Nathwani gives her many options with her "Garden of Eden" line.