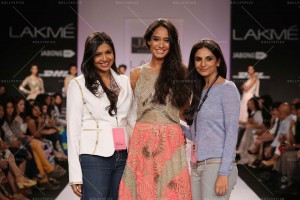 Giving the retro 1920's look pride of place in their collection, Monica Shah and Karishma Swali from "Jade" presented a relaxed glamorous line called "The Bohemian Princess" at Lakmé Fashion Week Summer/Resort 2014.
Adding the colourful stylish touches of the 1960's to Roaring Twenties glamour, the designing duo had an enchanting hint of decadence.
Opting for soft subtle shades to match the inspiration, the designers offered elaborate luxe silhouettes with stylish accents to the fashionable trendy modern woman's wardrobe. The fabric choice was sheer translucent textures with touches of discreet metallics and embellishments that once again recreated the beauty of the 1920's.
Long gracious gowns were the mainstay of the collection with cutwork; lavish embroidery and lots of gold linear beads that edged the creations. The silhouettes moved from flowing and voluminous to slim tubes with sparking dazzle.
In shades of white, pale pink, beige, liquid grey, orange and gold the creations which also included a sprinkle of skinny beaded trousers, jackets with peplums and low waist maxis was a formal wear offering.
Gliding in to close the show was Lisa Haydon star of the latest hit "Queen" in a luminous orange cutwork Lehenga and gold beaded blouse that was truly breathtaking.
For women who long for retro glamour, "The Bohemian Princess" from "Jade" created by Monica Shah and Karishma Swali will dress them in splendour of the past with large doses of the present.