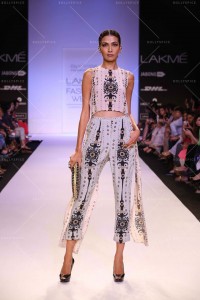 Inspired by French Moroccan culture and architecture, the collection called "Lady Sahara" by Payal Singhal was homage to Marrakech and the beauty of Islamic culture at Lakmé Fashion Week Summer/Resort 2014.
Luxurious tulle, mul, brocade, stylish linen and silk in soft shades of sand, grey, rose and cerulean blue along with intricate patterns of Moroccan filigree work were reflected in the beaten silver, gold and salmon 'kora' and graphic prints. Simple, stylish yet unique silhouettes were the highlight of the show, as the serene but beautiful garments glided down the ramp on stately models. Interesting fashion directions given by Payal were cut-outs on shoulders, shirt tail, translucent hemlines that swished around the models' legs, the elegant elbow length sleeves and the print-on-print story which is so popular for Summer/Resort 2014
Scene stealers were the Sahara print jumpsuit with organza overlay skirt, churidar-skirts which were teamed with cholis, cut-out shoulders, ankle length linen shirt dress, raised hem, tulle kurta and the ghagra-sharara pants. The use of embroidery was unconventional as geometrics, shrub and stone tulle ogee techniques added to the glamour and glitter of the outfits. Stopping the show was Bollywood beauty Neha Dhupia in a black linen sleeveless long shift layered with a stone square cutwork tulle half wrap skirt.
Payal Singhal's "Lady Sahara" collection made a stunning impact on the ramp, which will surely influence the sartorial preferences of stylish women during the coming summer months.