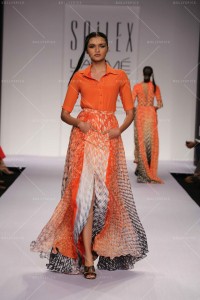 Bringing to the forefront of fashion at Lakmé Fashion Week Summer/Resort 2014, Sailex presented a stunning line of stylish women's wear that fitted in perfectly with the rising mercury. The theme was the subtle transition of the undercurrents of the inner tectonic shifts appearing as light ripples on the surface which Sailex cleverly translated as shibori for a major part of the show.
Dividing his collection into colour stories starting with cream, grey and then Graphite, grey orange and salmon orange; Sailex unleashed high octane evening wear, impeccably tailored with distinct style directions. The fabrics were 100 percent pure silk, crepe, georgette, flat chiffon, organza and satin. Tuxedos with swallow tail shirt, pencil skirts, pea coats, cape and T-shirt dresses, oversized maxi ensembles, calf length creations, crepe jumpsuits, tuxedo playsuit with satin dungarees were amazing construction statements.
But where Sailex scored was on the innovation quotient when he took embellishments to a different level. Selecting the humble hook eye and snap buttons from his sewing box, he turned them into unbelievable motifs that were used ingeniously to add glitter to the garments. The two saris were an offering to the ethnic wearer with mother-of- pearl embellishments in crepe georgette with shibori pallav worn with stretch satin blouse. Another graphite crepe sari with a satin shibori pallav had snap button décor.
Utterly feminine, beautifully crafted, each entry was well conceived for a long lasting impact on the wearer as well as the viewer.
When a woman wants to make a fashion transition from casual to ultra formal creations, Sailex has fashion directions of extraordinary elegance and beauty.