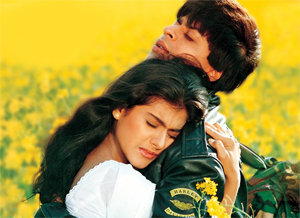 To mark its 20th anniversary, Indian cinema's most celebrated love story, Dilwale Dulhania Le Jayenge, will witness a screening extravaganza at the iconic BFI Southbank London, as part of its highly anticipated romantic season – LOVE: FILMS TO FALL IN LOVE WITH….FILMS TO BREAK YOUR HEART in partnership with Plusnet. The special screening of DDLJ will take place on Saturday 7th November, 2pm at BFI Southbank.
The BFI's LOVE season, running from 19th October until 31st December, will celebrate a broad spectrum of film and TV gems, from the swooning silent era to the present day, with the DDLJ extravaganza sitting alongside a curation of Hollywood melodrama, British period drama and European erotic thriller. As part of the special screening, winners of a nationwide competition to uncover the UK's very own Raj and Simran with their unique love story against the odds will be announced. The event will also welcome a specially-commissioned piece by Abolute Bollywood Dancers, who will showcase onstage some of the film's most memorable songs as part of a medley of Yash Raj Films classics. Following the screening, DJ Vish and crew will be entertaining audiences with a live, DJ set of celebratory party tunes.
Aditya Chopra's epic ode to love this year celebrates 20 years of uninterrupted run at the iconic Maratha Mandir in Mumbai. The National Award-winning film changed the course of a nation's cinema and became an unparalleled brand by establishing itself as the longest running film in the history of Indian Cinema.
Since its release in 1995, the cult classic love story, featuring one of Indian cinema's most iconic screen pairings – Shah Rukh Khan and Kajol, respectively essaying the lead roles of Raj and Simran – has won over the hearts of all generations. 20 years since its release, the cult classic still plays to a packed house during its daily, 11.30am show. It has been so strong an influence in filmmaking that it has in fact become a benchmark for all love stories in Indian cinema.
Come Fall In Love Again…With the film that defined the term 'Bollywood'
DDLJ 20th anniversary celebration screening, during and as part of BFI LOVE
Saturday 7th November, 2pm, BFI Southbank
Further information and bookings: www.bfi.org.uk/love