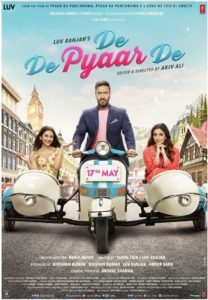 So many times in Bollywood cinemagoers are treated to great jodis showing the best of what has made them immortal and popular. Ajay Devgn and Tabu are one such couple and they are back together in a slightly twisted way for De De Pyaar De with Rakul Preet Singh making for an interesting trifecta family comedy romance. This is new versus old, young versus mature and a hapless Ajay stuck in between. The music will be both alive with the beats of youth but also have the maturity of age so a variety of composers have been brought in to provide the album headlined by Amaal Malik but not overshadowing the good and the great of Bollywood music in Tanishk Bagchi, Sunidhi Chauhan, Rochak Kohli and more.
Vaadi Sharaban is the poster for modern outlooks on life. Navraj Hans and Sunidhi Chauhan bring a pure bhangra track with Punjabi lyrics and traditional instruments to a beautiful medieval castle setting. The female protagonist sings a song of her freedom showing that she's free to dress how she chooses, being sexy and feminine at the same time but can still match any of the boys in a drinking contest and probably beat all of them hands down. She seems to both have control over herself and the ability to mesmerise all those around her who are happy to join in the song and dance. The song bookends the album with the Talli Mix at the end giving a feel of club hit rather than Punjabi folk but the twang in the bridges hints towards questioning the freedoms displayed early on.
Tu Mila To Haina is about finding love. This is of course a speciality of Arijit Singh so no surprises he's asked to sing it. A heartbeat drum, electric guitar for rhythm and the occasional female chorus for backing, Arijit does exactly what makes his songs so popular: he finds a listener's heart and gently gets it beating. By the end, while the video is just a pleasant stroll through the discovery of love, audiences will feel the familiar skipping of heartbeats that makes Arijit so special.
Garry Sandhu is known well in Punjab as another in the line of hip-hop bhangra musicians that are so popular in today's pop music scene. His song 'Yeh Baby' is remade on screen here as Hauli Hauli with Garry contributing as well as Neha Kakkar and Mellow D. There isn't much to differentiate from the original here except Rakul and Tabu who are a formidable pair of enemies. The music seems to echo this giving a mixture of traditional and western… something between Punjabi and Arabic at times. Likely an ending song, its just a lot of fun.
Armaan Malik maybe the best singer for the soulful song in Bollywood today so again no surprises that he is asked to sing Chale Aana, a sort of mutual breakup song. Backed by flute, acoustic guitar and tabla, this is mutual pain, mutual loss and suffering but all with a level of calm understanding that is hard to fathom unless experienced. While very repetitive this song pulls continuously at heart strings without ever digging in.
The album having been full of love songs was never going to be a surprise but no album in Bollywood can do without a fun number… whether item or cabaret. Thus, Mukhda Vekh Ke by Mika Singh and pop star Dhvani Bhanushali is a necessity. While the available video setting says family event with Punjabi lyrics and bhangra stylings this song is a Mika special with Dhvani providing vocals for both Rakul and Tabu to make their own case of Ajay's affections while Ajay seems to openly flirt with Rakul.
"Mein tera galat, tu mera sahi hai". Acoustic guitar and Arijit. Dil Royi Jaye is what makes Arijit Singh the king of Bollywood singers under every condition. A combination of lyrics that on their own tear into listener and audience emotions, an acoustic guitar and nothing else… and Arijit and his voice. Nothing needs to be said about this, it is just to be listened to; to be felt.
If Bollywood teaches anything, its that love has no age boundary or barrier. In fact, it's often love that breaks all the barriers down. Thus, this story is both perfect for Bollywood and, in being a family comedy, perfect for the modern stage. It provides escapism while being grounded in today's realities. The album provides a perfect background for this also by being a collaboration of mixed artists, as is the modern way, while also being clear about its objectives and how each song fits as part of the narrative. Nevertheless, what it really means though is a series of different voices pushing out the same message in different musical languages. This works well in songs meant to showcase unity in different languages and regions, but in an album that is already united this feels like a disjointed mess of noises. No doubt Chale Aana will be popular with the lovers, Vaadi Sharaban is going to be a club hit and Hauli Hauli came into this movie as a hit song but together they don't have an overlying motif that ties them together. What this album really needed was a supervising music director to give it that.