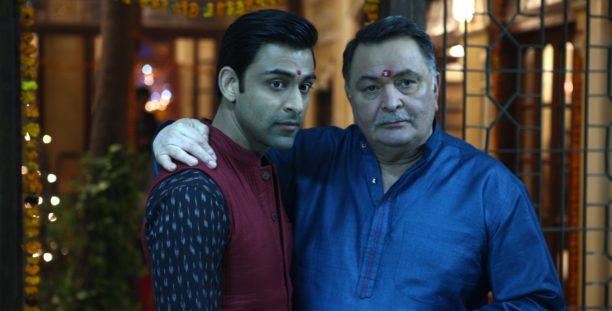 The pilot turned actor Anirudh Tanwar will be soon be debuting with one of the most awaited movies Leena Yadav's Rajma Chawal. If that was not exciting enough his first film is opposite the incredible Rishi Kapoor! The movie is based on father-son dynamic where Rishi Kapoor as a father is attempting to reconnect with his estranged son Kabir (played by Anirudh Tanwar) through social media. From what we hear this delightful take on a father–son relationship is full of heart. The film also features Amyra Datsur.
Talking about working with Mr Rishi Kapoor, he said, "It has been a wonderful experience and I consider myself extremely fortunate to have shared screen space with Rishi Sir in my debut movie. I took this as an opportunity to soak as much as I could by being around him."
He also mentioned the director Leena Yadav, "My director has been such a big source of encouragement throughout. She has been an amazing guide in helping me better my craft."
Excitingly, the film recently premiered at the prestigious London Film Festival and Anirudh's performance has been very well appreciated.
Though Leena Yadav was there unfortunately Rishi Kapoor and Amyra were not able to attend the world premiere in London, "I really missed Rishi sir and Amyra's presence at the London screening; it would have been nice if they had been around."
Adding, "It is such an amazing feeling to see my debut movie Rajma Chawal reaching out to global audience."