Raw silk, shimmery georgette and elegant chiffon created a regal ambience in the 27th street studio in Manhattan, as debutante designer Siddhi Vaishnav unveiled her brand new fashion couture line.
More than 150 fans came to A Tale Of Two Cities, the fashion launch that introduced the world to a brand new luxury line of clothing that blends in trends from Mumbai to New York City. Clic By Siddhi, founded and conceptualized by Siddhi Vaishnav, weaves the rich tapestries of Southeast Asia with the cutting edge trends of the US & the UK.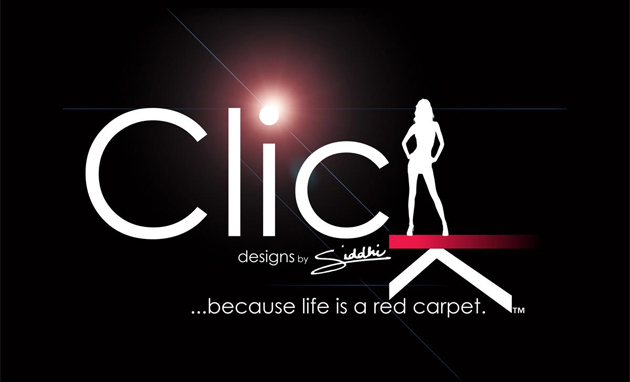 Clic's modus operandi is affordable affluence, where the luxury of fabrics like raw silk, georgette, and chiffon along with hand-sewn embroidery, beading, and stone work are provided at a reasonable price. The 21 piece collection ranges from $200 – $800 and includes everything from pre-pleated saris and pant suits with capes, to churidar sets that double as dresses and customized bridal trousseaus. Clic aims to satisfy the needs for fashionistas everywhere, whether headed to a wedding or for a glamorous night out.
Exuding high fashion and class, the label carries the tagline "because life is a red carpet™" so trend conscious clients can fulfill a fantasy sense of celebrity, if only for one night. "I know many people have the dream of being in the spotlight and living a life full of glitz and glamour, so I wanted to create a line where I could fulfill that dream for them," says Siddhi Vaishnav of her debut collection. An integral standout in Siddhi's design is the intricate back work that is part of every ensemble. Additions such as pockets and attached accessories add functionality to the clothing while adding a unique touch to each design.
Siddhi has designed her own clothing since the young age of 14, but with a medical science background, the world of design seemed to be just something to dabble in. The idea for her own line came about when individuals began asking for the apparel she wore at various events and over the course of a whirlwind year, Clic was born. Using her own unique personal style and combining it with today's self-expressive fashion climate, Siddhi created Clic's collections to consist of high end ensembles that are designed to be worn at events from red carpets to walking down the aisle to everything in between. Inspired by her own ideas and sense of style, Siddhi's debut collection is original and unique; putting Clic in a category of high end labels right off the runway.
A big believer in charity and community, Siddhi has partnered with Baal Dan, a non profit organization that provides education to young children in India. Clic By Siddhi will be donating a portion of all yearly sales to the charity. Clic offers the convenience of being able to personalize, rent, or own any of the label's creations.
To see the full collection visit www.clicbysiddhi.com.
ABOUT THE DESIGNER – Siddhi Vaishnav was raised on Long Island, New York and graduated from New York University with a degree in pre-health & psychology, and a minor in sociology. Upon graduation, Siddhi took some time off & moved to Mumbai to pursue modeling. Shortly after, she attended medical school at the American University of Antigua. During her 3 rd year of medical school Siddhi decided to pursue her dream of fashion design and shortly thereafter, Clic was born.
ABOUT BAAL DAN – Baal Dan's mission is to help street children, slum children, and orphans in India as directly and efficiently as possible, while investing in ways to provide these children with an education. Baal Dan was established in 2006 by Tanya Pinto.