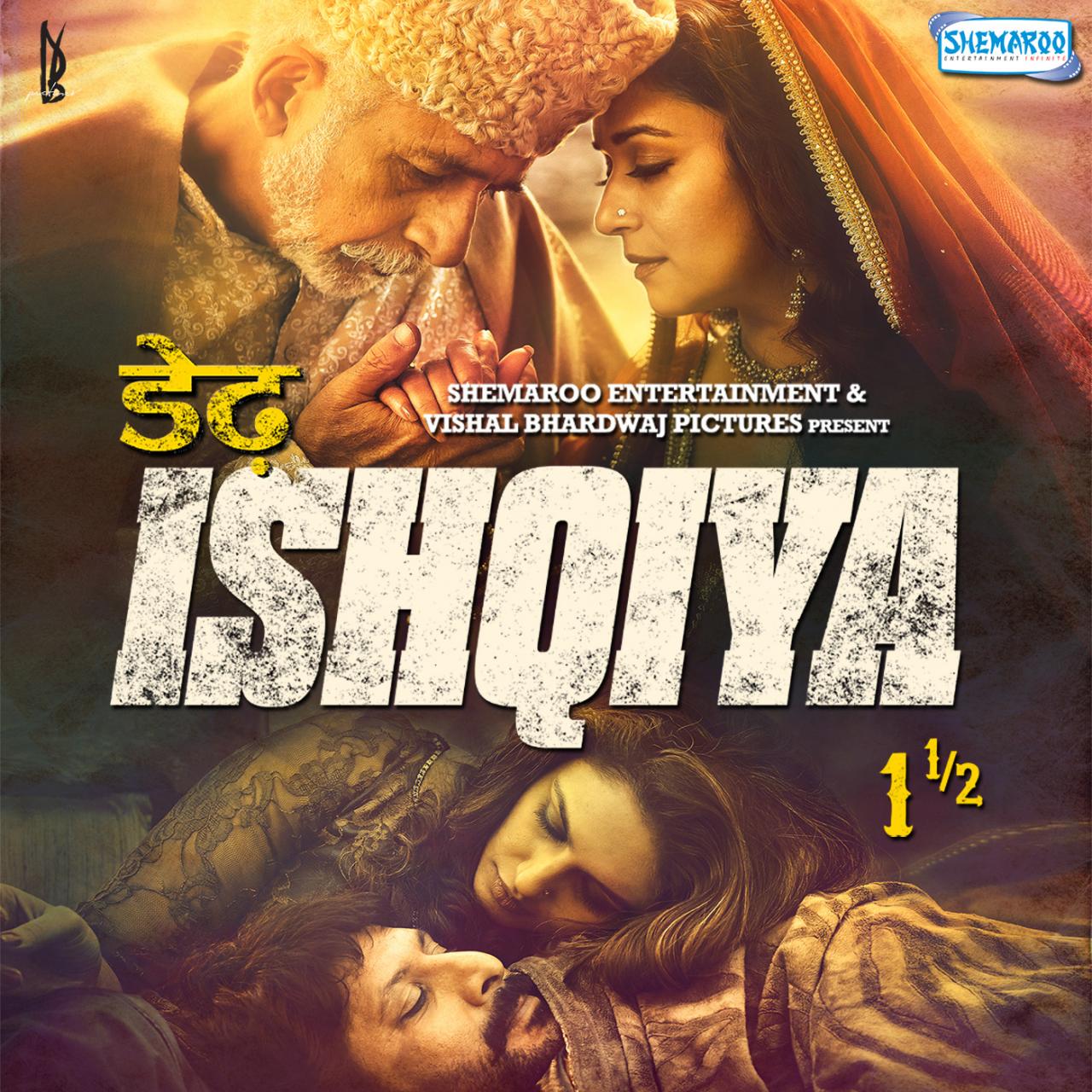 Abhishek Chaubhey's first directorial venture, Ishqiya, received tremendous praise from critics. The fantastic performances from Vidya Balan, Naseerudin Shah and Arshad Warsi were supported by witty dialogues and dark humour. Chaubhey's sequel, Dedh Ishqiya ,is an equally edgy and 'thrilling' product with the same level of wit and humour but an even juicier romance owing to the comeback of the dreamy Madhuri Dixit-Nene.
The story begins by rekindling the camaraderie of two con-men Khalujaan (Naseerudin Shah) and Babban (Arshad Warsi) who have been continuing to run from their former boss Mushtaq. The two scoundrels become separated as they flee from one of their con scenes and Babban sets out to find Khalujaan. They are reunited at the magnificent home of Begum Para (Madhuri Dixit-Nene) where she is hosting a poetry-themed swaymvara for herself, as one does. While Khalujaan attempts to woo Begum Para with his poetry, Babban finds a love interest in Munniya (Huma Qureshi). And so, both men embark on another fraudulent, romantic adventure with plenty of supporting characters to add to the twists of the plot.
The story is uplifted by the beautiful cinematography. The dim lighting when indoors and the elegant costumes and sets create a magical ambience that enhances each and every scene. Vishal Bhardwaj and Abhishek Chaubhey's screenplay is also of note and the elaborate Urdu dialogues are a delight to hear. It is also refreshing to see film-making that is intelligent and quirky and that isn't driven by box-office numbers.
Naseerudin shines yet again in this sequel with his effortless portrayal of Khalujaan's character and Arshad, too, delivers a stellar performance as Babban. Shah and Warsi's chemistry is addictive and together, their wit, charm and frequent bickering gel the entire film together.
Madhuri is enchanting and oozes an old-world charm which, when combined with Naseerudin's poetic flights, is just delightful. Her character, however, does not have much spice to it and she is not challenged as an actor to the extent we all know she is capable of. Perhaps her second "comeback" film this year, Gulaab Gang, will prove otherwise. Huma Qureshi, despite not being as established as her co-stars, delivers a noteworthy performance and keeps up with Madhuri commendably.
The music of Dedh Ishqiya is sadly unremarkable. The lilting voice of Rekha Bhardwaj is heard again in this sequel but there isn't a single stunning track as we saw in Ishqiya with 'Dil to baccha hain ji'. Vishal Bhardwaj has done a beautiful job in maintaining a traditional and semi-classical feel to most of the tracks and has also thrown in a contemporary composition featuring Yo yo Honey Singh, Sukhwinder Singh and Anushka Manchandana which despite being the weakest track of the soundtrack, supports the comic element of the film.
Dedh Ishqiya is an even better watch than its prequel and entertains with its dry humour, terrific dialogue and electric chemistry. It's definitely one to watch, if only for the powerful performances from the all the leads and that exquisite Madhuri charm.